How to Prioritize a User-Friendly Multifamily Website Experience
Generate More Leads and Higher Returns
Did you know that 95% of multifamily website visitors consider a good user experience to be the most important part of a website? Your multifamily website should be easily navigable for all visitors, all the way down to the type of font used.
What do we recommend? Pretend you are a prospective resident visiting your multifamily website for the first time. Scroll the homepage and time yourself to see how quickly and easily you are able to find things.
Subscribe to our weekly email newsletter to receive quick tips like this in your inbox once a week!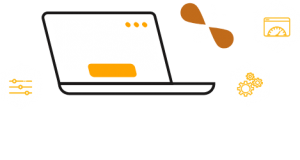 Decrease Your Bounce Rate While Increasing Your Bottom Line
Less Work. Better Multifamily Websites. More Leases.
Residents and prospects alike should be able to find all the information they need on your multifamily website, and it shouldn't take them more than a second to navigate to your amenities page or view your property image gallery.
With Swifty's premium apartment web designs, we prioritize the user experience on each of our themes. Swifty's pre-designed apartment web designs feature clean lines, large display areas for photography, and contemporary design, making it easy for residents to navigate and receive the information they need to make a purchasing decision. Each apartment web design's simple structure yet exciting scroll creates a user-friendly exploration of what your property has to offer.
With Swifty, it's just that simple. It's time to decrease your bounce rate and increase your bottom line with Swifty.
What Are the Benefits of Swifty's Multifamily Websites?
Speed
SEO
Efficiency
Affordability
Maintenance
Customizable
Book a Live Demo to See Swifty in Action!