The Benefits of PR and Outreach Marketing for Apartments
Public relations and outreach marketing for apartments is more than traditional press releases and talking to media outlets. It's about fostering positive relationships with your audience and making sure you are communicating with them clearly.
In the multifamily industry, it's imperative to know your audience is a diverse group of people, so you must work multiple angles to accurately connect with them. Let's take a look at how multifamily apartment communities can ultimately benefit from public relations.
Multifamily awareness and involvement
One of the major building blocks of outreach marketing for apartments and public relations is creating awareness and getting a message out to the public. In the multifamily world, this relates to building awareness at the property level. Let's say you have a new apartment community that is about to start leasing. What is the first thing you should start thinking about? Public relations. You need to show the community your property is going to be a destination for your target audience.
But how exactly can you do this? Get involved! Setting up a booth at a local farmer's market, marathon, or community event will help get the property's name out there, while also promoting a relationship with the community. Make sure to bring some prizes and incentivize potential residents to stop by your booth! Sponsoring an event is also a great way to give back to the community and offer a positive contribution.
For example, LVL 29 sponsored a local event called the Legacy West Sip, Savor, & Stroll where patrons were able to sample a variety of bites and sips at some of Plano's best restaurants. The luxury apartment community set up a booth at one of the restaurant stops to hand out giveaway items and exclusive updates on the community development. This offered a great opportunity for leasing staff to connect one-on-one with locals and prospective residents and generate new leads.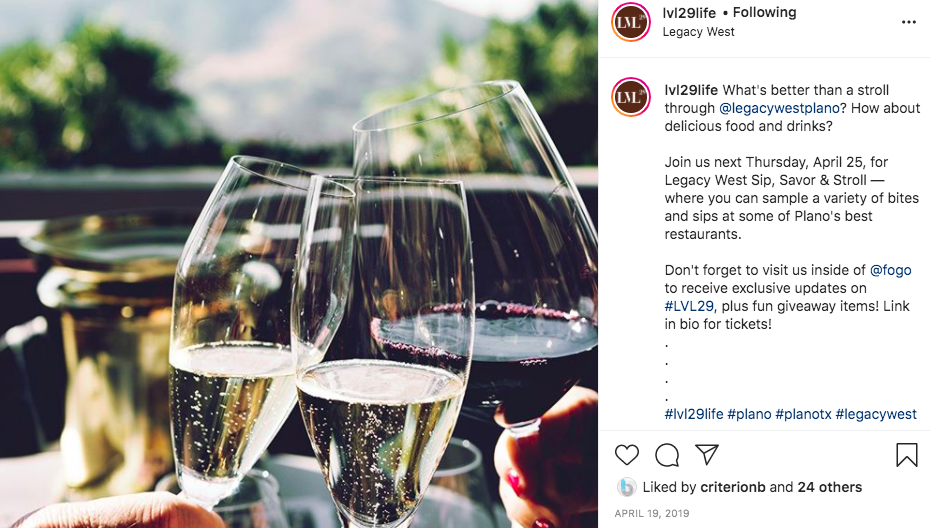 Multifamily community support
It's also important to note the attitude that is necessary behind every PR tactic you employ. While you obviously know you need to attract prospective residents, you should have the mindset that your property will be a community asset. This outlook will help develop a positive relationship with your community, and residents will be more willing to support your development. Community support is one of the most important things to develop when bringing a property to a new area. Building these relationships with the community will ultimately help in the long run, especially if a property is ever in a PR crisis.
This ties into our point above. Outreach marketing for apartments and sponsoring events around the community is a great way to get involved. However, you can also accomplish this by promoting events happening in the community that your residents are interested in attending. Reach out to local restaurants and ask if there any happy hour specials worth promoting to your residents. Make the connections and show your support as a member of the community.
Here are a few other local businesses you can reach out to:
Moving Companies
Furniture Stores
Banks
Self-Storage Companies
Real Estate Agents/Companies
Gyms
Traditional vs. modern outreach marketing for apartments
While traditional multifamily press releases are still relevant, you need to look at how things are evolving. We're always reiterating the implementation of social media for apartments, but multifamily PR professionals also emphasize the need to engage with your audience on social media.
In the multifamily world, this means you need to connect with local social media influencers, potential renters, and your residents. This is essential to a new apartment community because it strays away from traditional PR tactics which may not be as impactful. Instead, it embraces a highly trafficked medium that millennial renters are already using frequently to research.
A presence on social media, on the news, and in the community is so crucial in today's world that it's hard for a multifamily brand to succeed without successful public relations — and it doesn't have to be difficult for an apartment marketing manager to get started.