Tips for Staying On-Trend With Social Media for Apartments
Social media for apartments is changing every day. More specifically, Facebook and Instagram are constantly evolving to better serve properties from an advertising and multifamily marketing standpoint. The question you should be asking: How can my property leverage these platforms to get in front of potential residents?
We've been thinking through the same thing. Luckily, these social platforms give multifamily properties a great opportunity to get creative.
The Surge of Social Media for Apartments
Why spend time marketing on social media? Because that's where your target audience is spending their time. Not to mention, many brands, advertising, and promotions have found their home within these apps.
Here is a quick look at the numbers:
Snapchat has 280 million daily active users worldwide.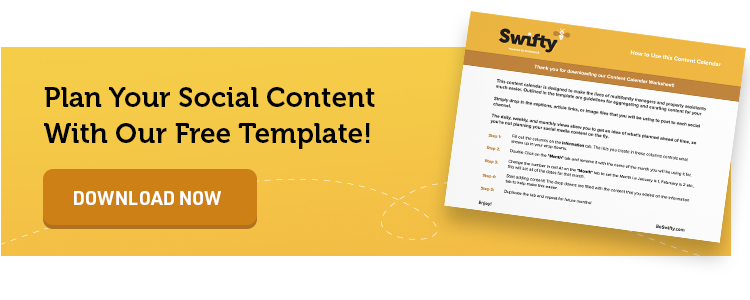 Over time, these social media channels have taken some big strides in making their platforms more business-friendly, which means there's room for multifamily.
Social media for apartments is becoming the new storefront. It's not uncommon for prospective renters to reach out online. Nor is it uncommon for current residents to post about maintenance requests or even general frustrations.
Let's talk through how this will look for the industry.
Planning Your Content
Content is still king. What we mean is, if you don't think through the content you're sending out, you're going to crash and burn. This question should always lead the way: What kind of content would your residents find valuable?
Content on social media shouldn't be a chance to promote your available units or competitive prices. It should be a fun, creative outlet to engage your current (and potential) residents. This type of content is a chance to relate to residents in a relevant way and show off your community's personality.
How to Utilize Social Media Stories
One of the most popular features on social media currently are "Stories," which are images and videos that hang around for 24 hours and can be viewed repeatedly. Stories allow marketers to curate content and get creative — not only with their own content but with user submissions.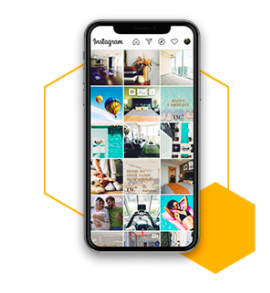 Snapchat Stories were first to market, followed by Instagram in November 2016, and Facebook in March 2017. What's the biggest difference between the three? The audience.
Facebook, Instagram, and Snapchat each have very different audiences — Facebook and Instagram offer a better opportunity to grow your following organically, while Snapchat requires users to input a username to follow an account, which isn't as explorative as Instagram and Facebook.
Engage your followers by using these platforms to showcase the property, events, reminders, office antics, and everything in between.
Is your property hosting a pool party this weekend? Why not snap an inviting picture of the pool and remind everyone that the "Party starts at 3 p.m.!"
Are there amenities or offerings that your residents aren't taking advantage of? Post a fun Boomerang of some of your residents cannonballing into the pool or a resident lifting some weights in your fitness center.
Remind everyone that there's fresh coffee in the leasing office every morning.
Hosting a resident appreciation event? Get a few clips of residents saying what they love about your property.
Is it National Donut Day? Get a fun video of your leasing team presenting or eating some donuts and tell all your residents to head to the leasing office for a free donut before heading off to start their day.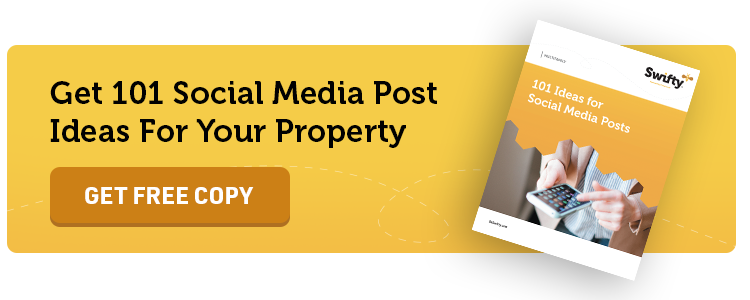 Are the wheels churning yet? Are you ready to jump in? Here are some more creative ideas to get the most out of social media Stories:
1. Try Live Video
Live Stories can make your multifamily brand seem more real for your followers; it also allows you to interact with your followers in real time. This can increase the authenticity of your brand and elevate your audience engagement.
2. Use Polls and Other Features
Instagram and Facebook both offer a variety of fun features you can utilize in your Stories, from polls and quizzes to the infamous "Ask a Question" feature. Try mixing up your daily Stories by using these features to generate more engagement and involvement from your followers.
These features are a great way to get your followers' thoughts on important topics and can even serve as a form of an A/B testing tool for you as well. For example, you can ask residents in a poll if they prefer donuts or waffles. The response will help you determine what to serve at your next resident appreciation breakfast event.
3. Add Location Tags and Hashtags
People often rely on Facebook and Instagram Stories to search for local businesses or relatable content through hashtags. By using location tags and hashtags in your Stories, you can extend your reach and potentially bring in new prospective residents.
The bottom line: Stories are an effective multifamily marketing tool for engaging your residents. If you're not utilizing this feature yet to promote your property, now is the time to start!