Maximize Your Apartment Leads With These 10 Tactics
Are you looking for ways to save time and increase leases?
Multifamily marketing can often be challenging, but with the right resources, it doesn't have to be.

Here are 10 things every multifamily marketer needs to maximize their efficiency and get more leads.
1. A multifamily marketing strategy.
To save time and increase their leasing numbers, a multifamily marketing strategy is essential for multifamily marketers. A multifamily marketing strategy should include defining the target audience, setting goals, developing campaigns, and tracking results.
We understand the frustration of having a strategic multifamily marketing plan in mind but no time to develop or executive it. You've got enough on your plate. Let Swifty take the reins and execute a multifamily marketing strategy designed to generate results and attract new apartment leads without disrupting your daily operations.
2. A comprehensive multifamily website with SEO.
Your multifamily website should be comprehensive, easy to use, and optimized for search results. Your site should include leasing information, photos, floorplans, and nearby attractions. It should also have a customer service feature where users can quickly find answers to their questions.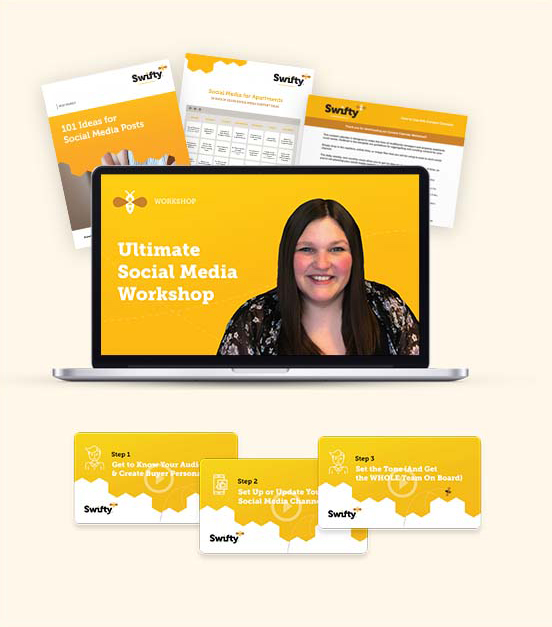 Swifty offers all of these amazing features and more. With our simple setup, continuous and automatic updates, user-friendly content management system, and more, Swifty is the bee's knees. Our apartment web designs allow you to quickly launch high-end, consistent sites for each community at a fraction of the cost of custom-designed apartment websites.
Plus, Swifty's apartment website templates are designed to generate results. Unlike competitor platforms, we focus on multifamily SEO from the ground up, with best practices in place to improve search rankings. 
3. Social media presence.
Multifamily marketers must be active on social media channels to engage with their target audience and drive more apartment leads. Social media can share information, create content, and curate conversations.
Social media allows multifamily marketers to create relationships with customers and build trust. By engaging with customers and providing helpful information, multifamily marketers can increase leases and save time by not having to reach out to each potential resident manually.
Want to craft a social media strategy that increases leases in 60 minutes? Our new Social Media Workshop for Multifamily will teach you how to build a social media strategy that drives engagement and leads online in the shortest amount of time possible. Sign up today!
4. A leasing management system.
Leasing up your property is time-consuming and stressful enough, so multifamily marketers need an efficient leasing management system to handle all associated tasks. This system should include tools for apartment lead tracking, contract agreements, and online payments.
One of the most effective leasing management tools is an automated property management system, which allows multifamily marketers to manage their properties, residents, and other assets from one central location. It automates many tasks that would otherwise be done manually and helps property managers save time by eliminating repetitive processes. Additionally, the system can help track apartment leads, monitor pricing trends, and develop multifamily marketing campaigns to target potential residents.
5. A CRM system.
Another effective tool is customer relationship management (CRM) software. A multifamily marketer needs a CRM to keep track of apartment leads, conversations, and customer relations. A multifamily marketer's CRM should also have features for automated emails, lead scoring, and automated follow-ups. With the help of a marketing CRM, you can easily target potential residents and increase leases.
6. Comprehensive analytics tools.
You need to track your marketing efforts to make informed decisions about your multifamily marketing campaigns. Analytics tools offer insights into the performance of your campaigns, website traffic, and customer engagement.
7. A content management system.
You need a content management system to create, manage and distribute content. The CMS should include features for creating blog posts, website pages, images, and videos.
8. Professional photography of your property.
Professional quality photos are essential for multifamily marketing. Photos give visitors an idea of the multifamily property and help draw in potential leads.
Did you know each of Swifty's apartment web designs features large display areas for high-quality imagery? And each template is entirely customizable. You can use the same apartment web design for consistency across all properties while interchanging the multifamily branding, photography, and font to make each site feel unique. You can also easily switch between our apartment website templates without losing any content or messing up your settings!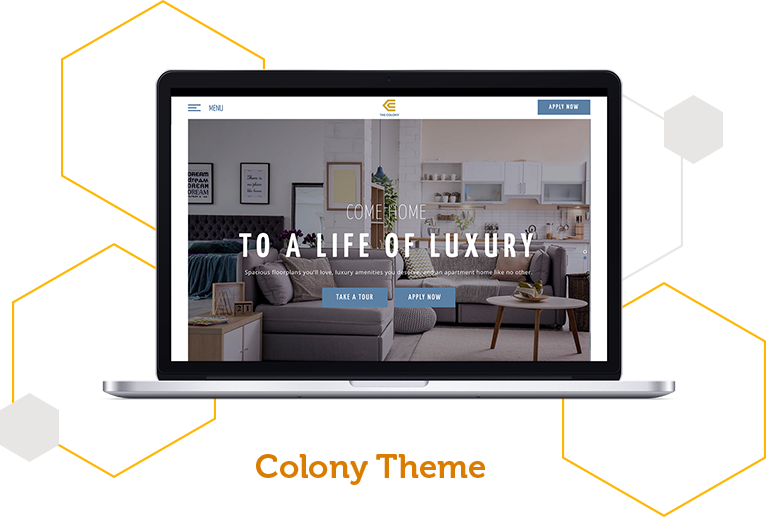 9. A marketing automation system.
Marketing automation allows multifamily marketers to automate their marketing efforts, saving time and allowing multifamily marketers to focus on more important tasks. With a marketing automation system, multifamily marketers can create automated emails, campaigns, and forms. Our team recommends platforms like SharpSpring or HubSpot to help you accomplish these tasks and much more.

10. A multifamily marketing platform.
Marketers need a multifamily marketing platform to manage their multifamily marketing efforts across multiple channels, track performance and analyze data. This platform should include campaign management, ad optimization, and analytics features.
With these 10 things in place, multifamily marketers can save time and increase leases. With the right tools (and the right marketing agency by your side) you can maximize efficiency and get more apartment leads with less work.
Not sure where to start? Simply contact our team to schedule a free 15-minute consultation with our team (no strings attached)!