Understanding Current Renter Behavior to Bring in Apartment Leads
Understanding your renters' behavior offers great insights into how to make important multifamily marketing decisions that help your community stand out, and ultimately increase your apartment lead generation.
And this all starts with building your buyer personas.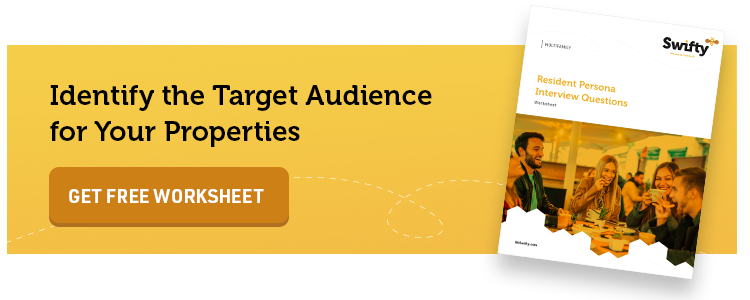 What is a buyer persona anyways?
Buyer personas, also known as multifamily marketing personas, are a semi-fictional representation of your ideal resident based on market research, interviews, and real data about your residents.
These personas capture the demographics, behaviors, motivations, problem areas, and professional/personal drivers of your ideal resident. Knowing this information helps you create the type of customer service culture needed to attract new residents to your multifamily property, develop loyalty, and ultimately increase your apartment leads.
Really, it just makes sense. If you were putting all of your resources toward multifamily marketing campaigns that were not targeting the right people, new leases would stagnate. Companies have become customer-centric by implementing practices to study their ideal demographic and their purchasing behavior.
Why bother with buyer personas?
If someone told you building buyer personas to generate more apartment leads was a piece of cake, they probably are not doing it right. So, if apartment lead generation takes so much time and effort, then why bother?
Once you have established your buyer persona, you need to angle everything about your property toward their perceived tastes. For example, an apartment located next to a university would likely be more successful if it styled its multifamily marketing efforts with a college student in mind.
The buyer persona can be helpful as well with content marketing and social media for apartments. For instance, you can formulate content based on trends in the buyer persona's interests. Use the persona to highlight the amenities you offer that best meet the lifestyle requirements of your target market. Building a buyer persona gives the entire leasing process a purpose. Otherwise, you are selling the same physical amenities no matter who walks in the door.
Do you know who your residents are? Where do they work? Where do they shop? What are their interests? While these questions might seem unimportant in the sales process, they are essential characteristics to know in order to understand your prospective renters' purchasing decisions.

The basics of a buyer persona
Buyer personas are comprised of a complete understanding of your ideal resident's demographic background and purchasing behavior. Thus, in creating your persona it is imperative you discover what industry your primary resident is in and their job position. Other details, such as the size of the company they likely work for, are necessary as well. Further, you need a thorough understanding of the problem your consumer might solve with your product.
Going through this process may seem tedious, but it gives you the ability to humanize your audience and get to know your prospective apartment leads. Using the buyer persona method optimizes the environment to provide content that will hit the nail on the head of your prospective resident's needs.
How to create your buyer persona(s)
Start by considering your property, location, and the monthly cost of the rent. This will help you determine the income requirements (and thus potential job or occupational industry) your target resident might need to have in order to adequately afford to lease with your community.
Once you have these factors determined, start doing thorough research of your geographic market. What companies or headquarters are close by? Perhaps your target residents work at these companies and would value a convenient community from your property to their job site.
Next, find prospective residents in the area that you can interview. You may need to start by asking your family, friends, and colleagues for people who might be interested in living in the community; you can then interview those people to gain insight into their personal lives to help build your personas. Aim to interview at least two to three people, but the more people you can interview, the better.

Consider the following when building a buyer persona:
Memorable name

Job titles and responsibilities

Demographics such as age, ethnicity, family status, education, etc.

Goals you want to accomplish on your multifamily website

Pain points (Why is it so easy for residents to leave? What are they struggling with? What are some of the things that frustrate them about their apartment?)

Technical experience

Work environment (Do they work remotely? Is their office located in a large high-rise downtown?)

Photos (Using realistic pictures, rather than stock photography, is always best.)
When it comes to your apartment lead generation, you should also always consider that your property might have more than one persona. At a luxury multifamily apartment community in a live-work-play atmosphere, for example, your target resident could be a millennial professional who values living in an environment that offers convenient access to their workplace as well as a plethora of nightlife options nearby for hanging out with their friends. A second persona of this property could be a recent empty-nester who values the convenience of living within walking distance from grocery stores and doctor's offices. 
Using your buyer persona(s) to grow your apartment lead generation
By taking a look at the current market, we have compiled some insights that drive renter behavior and purchasing decisions to increase your apartment lead generation. With more and more millennials (and now Gen Z renters as well) turning to apartment homes over residential, it is important to keep tabs on how their behavior is changing the multifamily industry.  
1. Be visible online
Since location is so important, many prospects search for apartments directly online. Having a heavy presence on Google Maps or the plethora of apartment search sites helps your multifamily SEO and apartment lead generation. Renters that know the area will want to search for apartments directly through a map feature. Multifamily properties can easily update incorrect information on Google Business. It is a simple thing that could put you on the map for prospective renters — quite literally — to boost your apartment lead generation.

Bottom line: If your online presence is not strong, you are likely to be missed. If your information is not updated or your multifamily website link is bad, then prospects will not give you the time of day. Meet your prospective renters where they already are — online.
2. Make your multifamily website information easily available
Typically when renters visit a multifamily website, it has met their criteria for location. And at this point, they are looking for specifics. Residents need to find their information fast and easily or they will lose interest. In fact, more than half of your prospective residents will abandon your multifamily website if the page does not load within 10 seconds or if they cannot find what they are looking for.
If the apartment does not have an automated system for pricing and floorplans, residents will wonder how archaic the rest of their systems may be. If I live there, how hard is it going to be for me to pay my rent or make a maintenance request?
Bottom line: If your pricing and available units are hidden, renters will move on.
3. Build your multifamily branding identity
Residents especially consider the feel of the apartment community. As renters are waiting longer to purchase a home, commercial real estate is the space they linger for a good majority of their young professional years. With this being said, renters still crave an experience, a purpose, and a destination in their apartment community. A multifamily brand identity is crucial to creating this presence.
Bottom line: An apartment lifestyle means quite a lot to millennials and Gen Z renters. They will eliminate apartments simply because there is no community feel. Take this highly into account and build a multifamily brand that reflects the lifestyle your residents enjoy.

Remember your persona when planning your multifamily marketing
When it comes to nailing down multifamily marketing tactics and boosting your apartment lead generation, make sure to always keep renter behavior in mind in order to delight their experience! Never forget your buyer personas when planning out your multifamily marketing strategy and even your apartment web design, as your ideal residents are what drive your community and your bottom line.
Want to learn additional tips for increasing your apartment lead generation? Check out our other blog Content That Converts: The Key to Apartment Lead Generation (+ How to Get Started).