4 Ways to Win Apartment Leads and Influence Residents With Community Design
The initial apartment branding phase is only as strong as the community being built. To that end, it's always a good idea to go over the community plan and figure out the details and amenities that make your development unique.
1. Give your building architectural character.
As multifamily developments continue to focus more on communities and neighborhoods — and move away from the "cookie-cutter" apartment building — architectural character and detail have taken center stage. And your apartment branding should reflect that.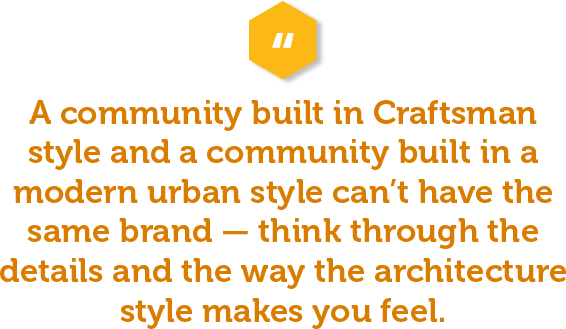 What's the emotional difference between unfinished cedar and custom-cut aluminum? Brownstones and cabins? Apartment branding should reflect the homes in it, and the people that will be living there.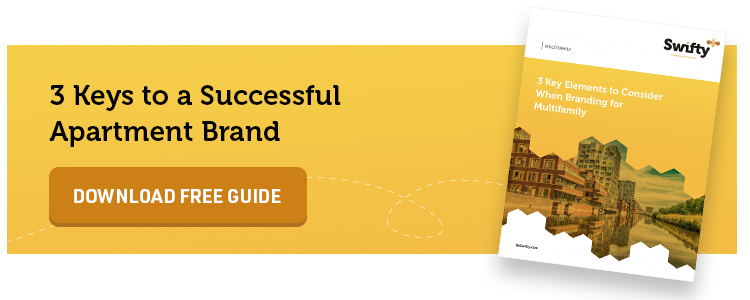 2. Integrate artwork into your community.
Art has a lot more power than just "beautifying your space." Powerful artwork has the ability to lower stress, increase motivation, and it reinforces the identity of the home or apartment community it is placed in.
Property managers and owners can take advantage of art to develop a design story and enrich the residential and community spaces at their property. Art can lead to higher levels of social bonding and community engagement — while also helping properties create a more meaningful connection between the apartment community and its residents.
While one piece of artwork likely will not majorly influence a prospective resident to lease at your property, a cohesive experience throughout your entire property definitely will. By carefully considering your artwork across your community, you are taking a more purposeful approach to interior design and creating an inviting and welcoming environment for your residents.
At LVL 29, for example, this luxury Legacy West community instills art into every aspect of the community design — even the coffee bars and mail counters include beautiful mosaics. The team at LVL 29 prioritize art to provide a very upscale, elegant, and high-class feel to the community, which its residents continue to admire.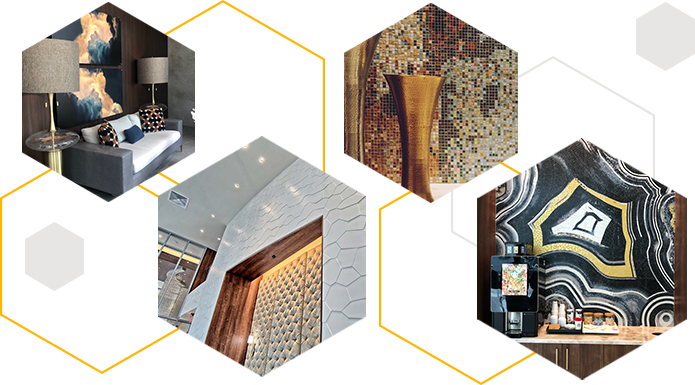 3. Build a multifamily brand that reflects your neighborhood.
We're not just branding a set of buildings that will sit as a monument to the architect who designed them — people are going to live here! If this project is being built in an existing neighborhood, take the time to research and learn more about its character.
Who lives here?
What do they do for fun?
What are the demographics?
Design and build a multifamily brand that reflects the neighborhood, and the development will have an easier time integrating.
If this development is going to be a cornerstone in a new planned neighborhood or revitalize a sagging area, then the research is more theoretical. Talk to the developer of your apartment branding property, but also reach out to the other developers in the neighborhood. Find out what kind of stores, restaurants, trails, etc., are going in nearby. Look at the vision books and documents for the whole project, not just your piece of it.
Creating neighborhoods is more important than just branding buildings. People are creatures of habit. If the new neighborhood has the look and feel of areas they like and have lived or wanted to live, your well-considered multifamily branding can apply those feelings to the new development. You have a chance to influence the whole character here and should definitely take advantage.
4. Let nature influence your multifamily branding.
This might seem a little obvious. But let's go ahead and say it anyway: If the property has, for example, a big lake on it, consider having that represented somewhere in the multifamily branding.
Groundbreaking? Nah. But there you go.
Not just the obvious natural features should influence multifamily branding, though. Maybe the development is only going to have maple trees. Or there's a specific type of stone that's across the property. Little things like that can influence and drive the apartment branding, and it's a really neat thing when there are small, distinct details for residents to notice.
Want to learn more about Swifty or have questions about what we do? Check out our YouTube video for a super fun, quick explainer on what we have to offer!