Key Steps to Maintaining Effective and Consistent Apartment Branding
Arguably one of the most valuable assets a property can have is its apartment branding. It's carefully crafted to represent the business to the property's target audience authentically. In more technical terms, apartment branding is how a property wants to be perceived by its residents and customers.
The components of apartment branding consist of the name, apartment logo, tagline, color palette, typeface, and all forms of messaging. These components are created for the business to reflect the value it's trying to bring to the market.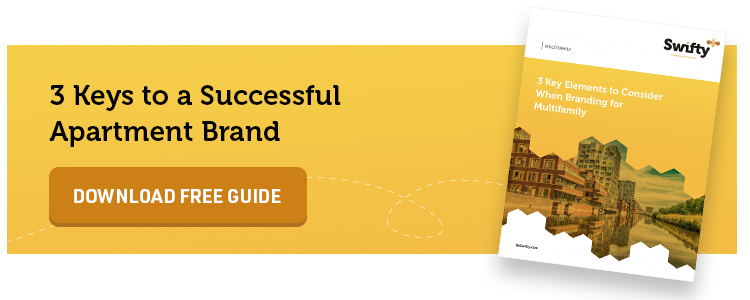 Multifamily Branding Examples
Whether you notice or not, you experience many company brands on a daily basis in some way. The best and most well-known companies have carefully crafted brand identities.
Interbrand's Best Global Brands 2019 names the Top Ten Global Brands as Apple, Google, Amazon, Microsoft, Coca-Cola, Samsung, Toyota, Mercedes-Benz, and McDonald's, and Disney. And this list likely brings instant perceptions to your mind — likes and dislikes, experiences, how they make you feel.
Of course, these are the best of the best, the most iconic brands in the world. But they didn't start out that way. They reached those levels slowly and painstakingly over time. Building a strong brand identity requires consistency and repetition. For the most successful companies, the brand experience delivers on consumer expectations time and time again.
Getting to Know Your Apartment Branding
Let's get personal for a minute and start with a few simple questions. Amazon's Jeff Bezos says, "Branding is what people say about you when you're not in the room." Time to ask yourself about your own apartment branding. Are you portraying a specific lifestyle and personality that appeals to your residents?
This lives physically through imagery that's on your multifamily website, social media, banners, and the multifamily marketing materials your residents see regularly. Do these images project the type of resident you are trying to attract?
Are you targeting a specific age group or audience?
Your apartment branding can undoubtedly target a specific audience and age group. It is essential that a brand identity is not everything to everyone. Your multifamily branding should resonate with its messaging to the specific audience to whom you are appealing most.
Is your apartment branding memorable? 
When you read that list of the biggest brands above, I'm guessing that specific images, logos, and taglines came to mind based on memorable experiences you've had with those brands. Your brand identity is not any different. When you think about all the elements of your apartment branding — the apartment logo and images, the promise and personality, and the quality of service — these will leave a lasting impression on your audience and help to shape your brand identity.
Do you inspire?
Your apartment branding is not just about the functional elements of the visual outward-facing pieces of the brand. All those pieces should work together to inspire the story your brand is trying to tell.
Keep Your Multifamily Brand Communication Authentic
In answering these questions, never forget who you are at the core. Keeping your apartment branding message aligned with your core values, mission statement, and differentiators will help your audience connect with your company. If your residents connect with your apartment brand, you will gain resident satisfaction and brand consistency.
One of the most important aspects of brand communication is keeping your message authentic. In today's world of social media norms where at any moment a video or image could go viral, this can work positively or negatively. Keeping your brand message authentic builds trust and is imperative to long-term success.
Discovery Park Apartments, for example, offers luxury apartments in Denton, TX. Considering the community is located near a major university, the primary audience is college students and millennial professionals who work in the area. The community is also well-known for its smart home features and technology-focused amenities, which Discovery Park conveys clearly on its multifamily website and across all its messaging in emails, on social media, and even in collateral pieces.
Its unmistakable and consistent apartment branding helps residents resonate with the property on a more personal level and makes it clear what the residents will be getting when they choose to lease with the property.
Make Your Apartment Branding Impressionable
Finally, the greatest success markers for your apartment brand identity are repetition and consistency. As we all know, there will not be a second chance to make that first impression. But there are many chances to reinforce a great impression. It's critical to ensure you execute your brand identity consistently.
The difference between seeing a well-executed brand as opposed to one with a pixelated apartment logo is palpable. These initial views of your brand can leave a lasting impression on your potential audience. Your apartment branding is your most valuable asset if used correctly; it's one of the easiest ways to communicate with your audience. So be picky. A strong multifamily brand over time builds confidence and trust from those who support it, share it, and live it.