Instagram Reels Tips to Get the Most Out of Your Multifamily Marketing Strategy
Did you know that 9 out of 10 Instagram users watch videos daily? Video allows you to go beyond static images to capture viewers' interest. And considering the Instagram algorithm heavily focuses on Reels now, it's an excellent opportunity to reach your audience online with no ad spend required.
Instagram Reels are short videos (15-30 seconds) that Instagram users can create and post on their Instagram feed and stories. They have become a popular way to engage with followers and increase your reach and visibility.

As a multifamily marketing agency, we've been testing out different types of Instagram Reels and conducting extensive internal research to compile our best tips based on real-world experience.
Here are 10 Instagram marketing tips to help you 'Reel' in more apartment leads:
1. Get creative.
Not all Reels have to include an infamous "TikTok dance." Leverage Instagram Reels to get creative and tell a story. Reels are the perfect opportunity to share stories about your property, its amenities, and its unique features. 
Start a new series showcasing a new amenity each week or interview some of your residents talking about the property. Make users want to watch more of your Reels, save them for future use, share them with a friend, and watch it multiple times.
2. Take advantage of Reels tools.
Take advantage of Instagram's built-in tools for editing, creating special effects, and adding music to elevate your Instagram Reel content. Did you know you can easily add cool transitions between your video clips, or include voice-over and trending audio? 
The best way to learn about some of these features is to take some time to play around in the app. Create some "test" Reels for fun, then delete them and use the knowledge you gained to create the "reel" deal (pun intended!)
3. Post Instagram Reels often.
Keep viewers engaged by posting Instagram Reels regularly and at the same time each day (if possible). We recommend prioritizing Reels as much as possible (or as much as you have time). 
Instead of snapping a quick photo of your community's pool, take a quick Reel of the water in the wind, the lounging chairs, the firepit, and more, then combine them into a fun Reel with trending audio! Chances are, it takes the same amount of time but can reach an exponentially larger audience on Instagram.
4. Encourage user generated content.
Don't have time to film videos this week? No problem! Get your followers involved by allowing them to share their own Instagram Reel videos on your property's page. 
Host a contest or giveaway for any resident who takes a Reel at your property and tags your Instagram account. Then, you can reshare your favorites. This not only increases engagement online, but also spreads more word of mouth about your property. Win-win!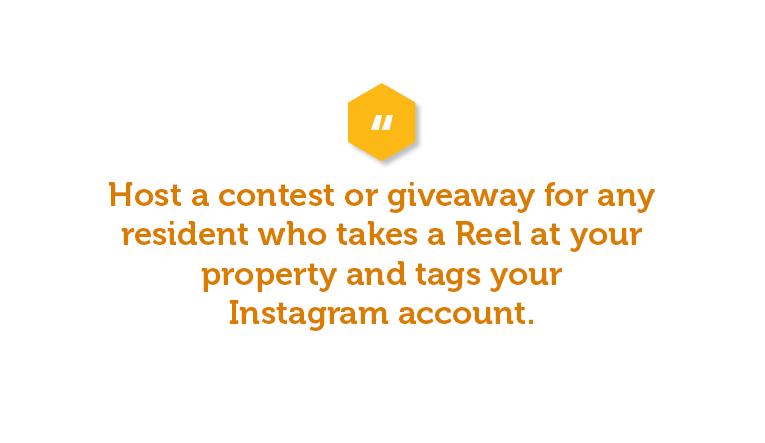 5. Boost Instagram Reel posts.
Did you know you can boost Instagram Reels if posted on your feed? Reels lets you choose between posting just to your Reels page or also to your feed. If you post to your feed, you can then use Instagram's advertising platform to boost the Reel post and reach more people in your target audience!
6. Utilize user engagement features.
Instagram's 'Questions' and 'Poll' stickers are great for apartment owners to increase engagement on Instagram. And, you can now use these features in your Reels (and not just in your Instagram Stories). These engagement stickers can increase your reach, engagement, and cause users to watch your video more times as they attempt to engage with the poll or question.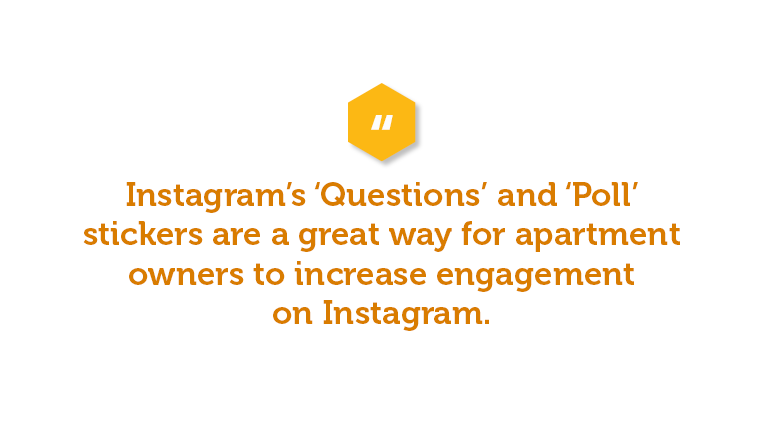 7. Track Reel performance metrics.
Use Instagram Insights to monitor and measure the performance of your Instagram Reel posts, so you can make informed decisions about Instagram marketing strategies. You can view which Reel had the most plays/views, which received the most engagement, and which had the largest reach. This will help you identify trends and know which types of Reels to replicate to continue increasing your analytics.
8. Include keywords in your caption.
Did you know your posts are searchable within the Instagram app? By including short-tail keywords and relevant hashtags in your caption, you are telling the algorithm what your Reel is about so it is indexable in the app and shown to the right audience. Plus, when a user searches for a particular type of thing on Instagram (i.e., apartments for rent in your city), your Reel will appear in the search.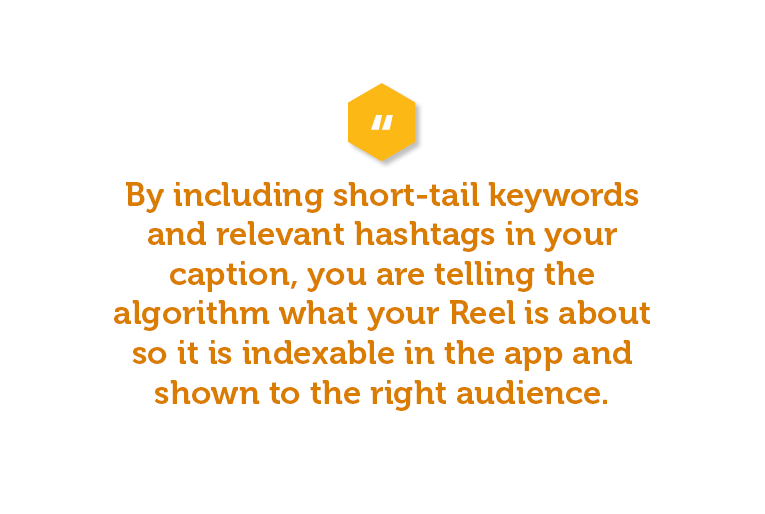 9. Cross-promote Reels on other social channels.
Share Instagram Reels to other channels such as Twitter, Facebook, and LinkedIn to give them more visibility and reach a larger audience.
Also, did you know you can post your Reels directly on Facebook? Simply log into Facebook, head to your business page, and publish your video as a Reel. This will also allow you to grow your Facebook and reach wider audiences than static image posts in your feed!
10. Follow Instagram trends and best practices.
Keep an eye on Instagram trends and best practices to stay up-to-date with Instagram marketing strategies. And don't forget about Instagram's community guidelines. Ensure you are not using copyrighted material in your Reels (e.g., audio from copyrighted movies or soundtracks). Violations of these guidelines can cause your account to be muted or shut down.
Get the Most Out of Your Instagram Marketing Strategy
By leveraging Instagram Reels, you can increase apartment leads for your multifamily property and get the most out of your Instagram marketing strategy. These are just a few fun and easy ways to start utilizing Instagram Reels as part of your multifamily marketing strategy. Want to see this in action? Follow us on Instagram to see for yourself!