How We Increased Instagram Reach by 424% + Easy Reels Ideas for Your Property
With a plethora of social media enhancement tools on the market, multifamily marketing professionals may be overwhelmed, wondering which can be used to leverage their property's character. But we're here to tell you about the hottest feature on the market right now that you should be taking advantage of: Instagram Reels.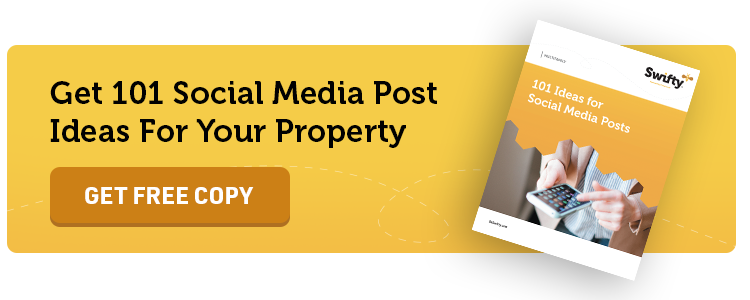 Did you know that 9 out of 10 Instagram users watch videos daily? Video allows you to go beyond static images to capture viewers' interest. And considering Instagram places a significant focus on showing your Reels to more non-followers (AKA the algorithm focuses heavily on Reels vs. feed posts or Stories), it's an excellent opportunity to reach your audience online with no ad spend required.
As a multifamily marketing agency, we've been testing out different types of Instagram Reels and conducting extensive internal research to compile our best tips based on real-world experience.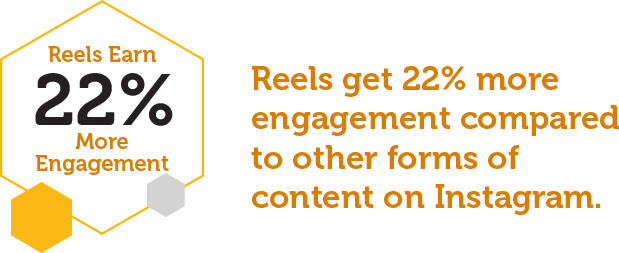 We've continually increased our account reach on Instagram by 300-400% each month since posting Reels in January. In March 2022 alone, our reach increased 424% as compared with February 2022.
And guess how much of that reach was non-followers? More than 14,000.
More than that, our reach, followers, profile visits, and clicks on the link in our bio also increased exponentially on a month-over-month basis! Since posting Reels, we haven't seen a dip in our Instagram analytics — not even a minor decrease.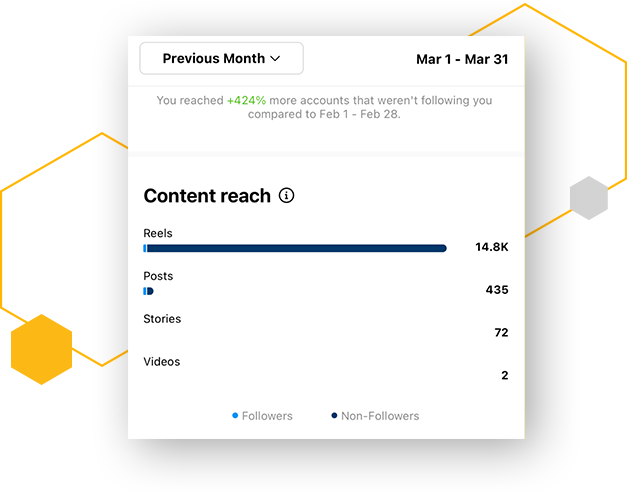 As you can see, we only reached about 435 people via feed posts and just a handful through our Stories. Most of that reach was followers. This above screenshot shows just how powerful and impactful your Reels really are at growing your audience and expanding your online presence to prospective residents and "brand fans" that may not have known about your property before.
Here is how we did it:
1. Use trending audio
It sounds more difficult than it is. If you enjoy scrolling through Instagram (or have a member of your team who enjoys it), then you likely already know what the trending sounds are. Think of the most popular Reels you see every day and what audio those Reels use. Instagram makes it really easy for you to "save" audio into a folder that you can reference back on later. Here's what to do:
When watching a Reel, you'll see the name of the audio next to a music note symbol at the very bottom of the screen. Tap on this! It will bring you to the original audio page (see the below screenshot for reference). As long as the audio is not licensed (making it unusable for business accounts due to copyright reasons), then you will see two different CTA buttons on the page.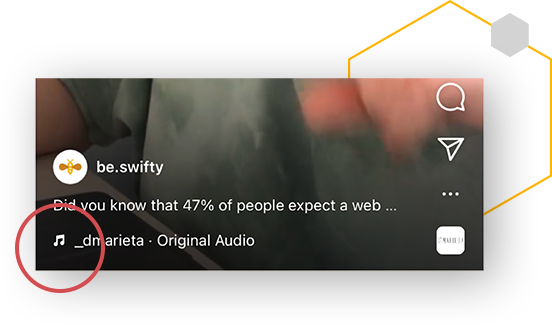 Save Audio — This allows you to "save" the audio sound into your Saved folders for future use. You can reference back on it later when you are ready to record your Reel using the audio.
Use Audio — Once you click this, it will open up the Reels generating screen where you can immediately begin recording your Reel using that audio.
How do you access your Saved folder? Click on the three hamburger bun bars in the top right corner of your profile. Then click "Saved." Here, you will find any feed posts you have saved in the past as well as a folder for saved audio sounds.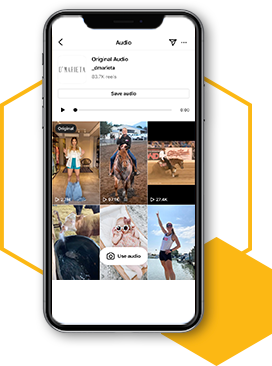 2. Include a call-to-action or "check caption for details" text
The easiest way to get more views on your Reel? Include a "check caption for details" call-to-action on the Reel itself. Add the text to your Reel, then include a caption with more details about what you are describing or showing in your video.
For example, if your Reel is a timelapse of your team setting up for a big resident event on your property, then your caption can include all the details of the event (date, time, what to bring, what freebies you're offering, who's invited, etc.)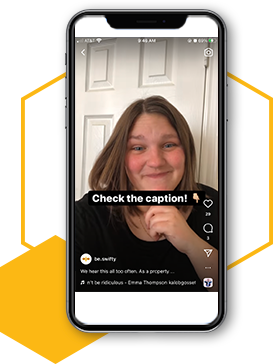 As viewers click on your caption to read it, the video will continue to play in the background. This, in turn, increases your Reel views — which ultimately signals to the algorithm that your viewers are taking interest in your Reel. In most cases, this expands your reach even further!
3. Be educational, not just entertaining
Not all Reels have to include an infamous "TikTok dance." Sure, it's important that your Reel is entertaining — that's how most Reels go viral, after all. However, it's also important to make your Reels educational for your audience. Make them want to watch more of your Reels, save them for future use, share them with a friend, and watch it multiple times.
4. Include keywords and relevant hashtags (within your caption)
Did you know your posts are searchable within the Instagram app? By including short-tail keywords and relevant hashtags in your caption, you are telling the algorithm what your Reel is about so it is indexable in the app and shown to the right audience. Plus, when a user searches for a particular type of thing on Instagram (i.e., apartments for rent in your city), your Reel will show up in the search.
However, make sure you use these within the caption and not in the comments. Keywords within the comments are not searchable.
5. Film directly in the Reels app
If your property has a TikTok account, you might be tempted to record a TikTok, save it to your phone, then reshare it on Instagram. This is great if you are on a time crunch, but through testing and research, we've discovered that Reels with the TikTok watermark on them don't perform as well as when the video is recorded directly within Instagram.
While this isn't always a guaranteed way to expand your reach on Instagram, it can't hurt to test out this theory for yourself to ensure your Reel performs as well as possible!
Scroll below for some ideas of what to include in your Instagram Reels!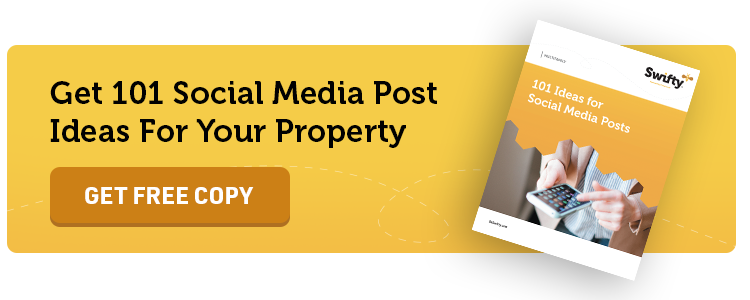 Instagram Reels ideas you can recreate for your property (without spending a dime)
1. Apartment renovation
Is your apartment making some exciting changes or upgrades? Instagram Reels are a great tool for showcasing transformation. You might start with a shot of the apartment number, open the door and show your apartment crew hard at work painting walls, and installing new fixtures and carpets. And be sure to pan the finished product! Sharing these videos on social media allows prospective residents to see that your property is constantly updating. The same can be done for updates around the property. These videos, which showcase the time and effort of your crew, let renters know that you want their new place to be a home, not just an apartment!
2. Community gatherings and events
Make sure to get some footage at your next pool party or on-site community event from start to finish. Families and kids, singles, water volleyball, pool, wine tastings, and holiday gatherings are all great ways to show your future residents that your multifamily complex is a cohesive community and one they should be a part of! It is also a fun video to share with your current residents to say thank you for the wonderful turnout — cannot wait until the next event!
3. Tour of the property
Looking to sign a new lease this month? Create a property tour on Reels. Why? Because most consumers search the web before making a purchase decision. What better way to start showing off your property and all of its fabulous amenities than with a quick video tour. Hop on that golf cart and start filming!
These are just a few fun and easy ways to start utilizing Instagram Reels as part of your multifamily marketing strategy. Want to see this in action? Follow us on Instagram to see for yourself!