The Future of Multifamily Websites Is User-Friendly
Apartment web design can seem unassuming, yet it is a major factor in whether prospective renters are able to find the information they need on your property. As more and more people access the internet from mobile devices, responsive web design has become the most important feature for multifamily websites.
And we are about to tell you everything you need to know about responsive apartment web design…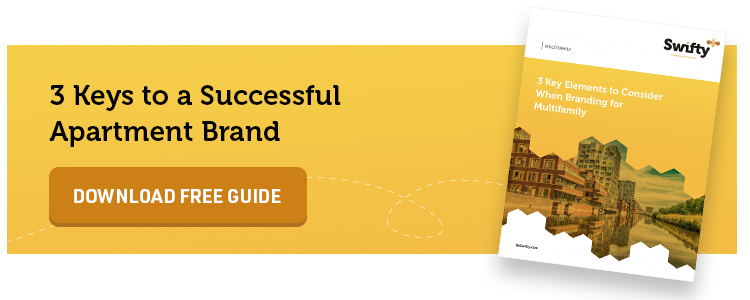 What is responsive apartment web design, anyway?
First impressions are everything, especially when it comes to your multifamily website. If you came across a web page that was cluttered and difficult to navigate, you would probably exit the page. Your prospective or current residents are the same way. In fact, 94% of people say they do not trust a website with an unresponsive design.
If your multifamily website has a responsive apartment web design, that means it responds or adjusts when viewed on different devices. Got a smartphone? A widescreen desktop monitor? Something in between, perhaps, like a tablet? If you are like most users, then you probably browse the web on more than one of these devices. Responsive apartment web design is an approach to building your multifamily website that allows it to display and function well on any device.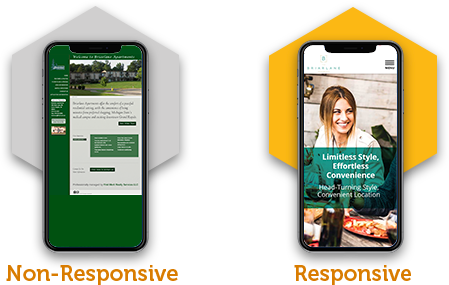 How does responsive apartment web design work?
While there are always small fixes you can make to your multifamily website to improve the overall user experience, creating a responsive apartment web design is not a simple process. It requires CSS and HTML updates by a person skilled and familiar with coding or a professional multifamily web designer.
Here is a quick breakdown of the techniques and process required for making a responsive apartment web design:
Fluid Layouts
We discuss fluid layouts and how to test the responsiveness of your multifamily website in more detail below, but essentially you want your website to have a fluid layout and not fixed widths. Your web pages should expand and contract to fit different screen sizes and devices or when the browser is adjusted.
Adaptive & Responsive Images
All of your images should be responsive and adaptive. What we mean by that is that they should also grow and shrink (just like your web page does) to fit the user's browser or device. Making sure your images are responsive is critical because it can also impact your multifamily website's search engine friendliness and speed. For example, if you have a very large image (in pixels and size) on your homepage, it will take longer to load and might cost you leads.
Media Queries
Another critical component of a responsive apartment web design is media queries, which is essentially code that you can add to your multifamily website to set device-specific rules for showing, hiding, or moving specific elements for specific devices.
For example, if you have a section on your multifamily website that shows on a computer browser but you do not want it to show on a mobile device, you can add code to hide that specific section.
HISRC
HISRC is a plug-in that uses Javascript to scan the images on your website, then show either low-quality or high-quality images based on the user connection. If the user has a slow or bad connection, your multifamily website would revert to showing lower resolution images so that your site loads quicker.
While high-quality images are important, having a fast-loading page is more important when it comes to attracting residents and landing new leads. In fact, 47% of people expect a web page to load in two seconds or less.
Swifty's pre-designed apartment web design themes feature responsive designs with clean lines and large display areas for photography, making it easy for residents to navigate and receive the information they need to make a purchasing decision. Upgrade or launch your multifamily website today!
Mobile-friendly is not necessarily responsive
Just because your multifamily website is "mobile-friendly" doesn't necessarily mean it is responsive. Oftentimes, mobile-friendly multifamily websites are a smaller version of your site that is completely separate from your main website. This approach has a mountain of disadvantages when it comes to maintenance, compatibility, and property management SEO.

Why responsive apartment web design matters
According to Statista, more than half (50.8%) of all global web traffic comes from mobile as compared with 32 percent in 2015. Think of that in terms of your potential residents. Half of your renters are coming to your site in a non-traditional browser.
You don't have to be a statistician to see the writing on the wall. More and more people are using the web on smaller devices that have some inherent limitations. If a resident comes to a multifamily website that does not look or act right on their device, they are far more likely to move on than to change their device.

How apartment web design impacts your property management SEO
Did you know that unresponsive design can push you further down in rankings on Google search results? Google makes sure that the top search results on the page are all mobile-friendly and responsive.
Considering a little more than half of the world uses mobile devices for business activities, including buying and selling products, Google wants to ensure its platform is optimized to promote businesses with websites that convert more searchers into customers. And sometimes all it takes is a few simple adjustments to your multifamily website to become part of the top search results.
Want to learn more about the importance of property management SEO and how to boost your search ranking? Check out our blog here for a breakdown and quick tips.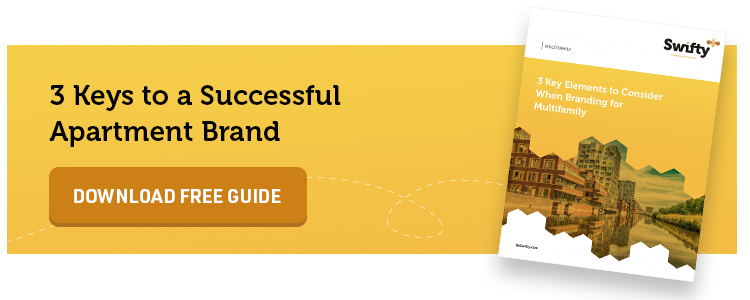 How to test the responsiveness of your multifamily website
The cliché way of checking to see if your multifamily website is responsive can be done in seconds:
Open up your multifamily website on your desktop computer or laptop.
Click-and-drag the corner of the browser to make the window really narrow.
If your multifamily website is responsive, it will "snap" or respond by hiding or repositioning elements on the page to match what it believes is the new screen size.
If it works, click and drag your browser back and forth from large to small. It's fun to watch your multifamily website transform before your eyes.
What to do when your multifamily website is unresponsive?
So, you did the test and your multifamily website did not seem to "snap" or respond. That means your multifamily website is unresponsive. What next?
Generally, responsive apartment web design is something decided before the building process begins on a multifamily website. It is much like constructing a multi-story building — you decide on the number of floors before the foundation is laid because it affects how the whole structure should be built.
Most likely, it will take more than a few small adjustments to make your multifamily website responsive. Have a qualified apartment web designer dig around in the code and let you know what is salvageable.
Responsive Apartment Web Design: The Present + Future
Responsive apartment web design is one of the most important aspects of digital multifamily marketing. As more and more people access the web via mobile, it is imperative that your information displays correctly on any device. Otherwise, those leads will begin to slip through your fingertips, resulting in fewer tours (and ultimately leases).
As mobile traffic increases, residents are not going to change their devices to accommodate you, so it is about time you changed your apartment web design to meet their needs.
Need some help creating a user-friendly multifamily website or want multifamily marketing tips to improve your strategy? Sign up for our weekly email newsletter for quick tips sent straight to your inbox. (P.S. We promise we won't share your emails with anyone else and we will never spam you! We only share helpful information!)