How to Evoke Emotion & Brand Experience on Your Multifamily Websites
Apartment homes are more than a temporary place to live. To residents, these units are their homes and reflect their lifestyles. It's important to build multifamily branding that is both enduring and endearing and easily connects to prospective renters.
Residents expect to have meaningful, shared experiences with their apartment community. They desire convenience, efficiency, and a sense of community, which all begins with building a solid foundation of consumer trust within your brand.
Consumers are more willing to purchase products, including signing a lease, if they believe they will have a positive experience. In fact, many consumers are willing to pay more for multifamily brand experience.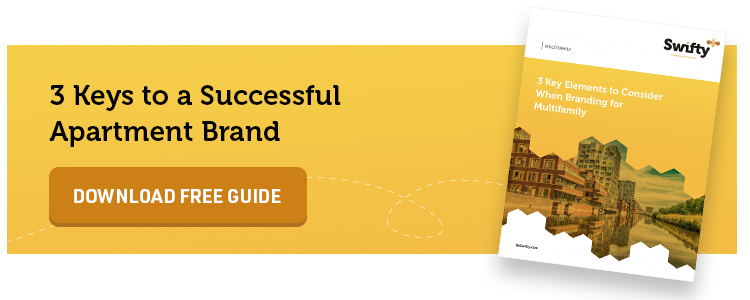 What Is Multifamily Brand Experience?
We define multifamily brand experience as a sensory experience between a resident or prospect and multifamily brand that fosters a meaningful, valuable, and lasting relationship.
In today's evolving digital world, consumers make decisions faster than ever. They want instant gratification for impulsive decisions, and they expect brands to provide what they are looking for when they need it.
Consumers are frequently turning to mobile devices for the answers, searching Google for products, and gathering recommendations from social media. With all of this in mind, properties must ask the question: "Is our brand seizing the moment?"
In multifamily housing, it is important to understand your audience's lifestyle and interests. This includes how they like to communicate, what they do in their free time, and what amenities interest them the most. How does can this knowledge translate into your multifamily website and online presence?
A company must know its mission and the experience that its brand is committed to giving residents onsite. It's essential to then communicate that multifamily branding message clearly through the right channels at the right time. It's also important to be active in all stages of the mobile journey. This can start with local search results, your online reviews, multifamily website, social media, and video.
Building a Meaningful Multifamily Brand Experience
The components of a multifamily brand identity consist of the name, apartment logo, tagline, color palette, typeface, and all forms of messaging. These components are created for the business to reflect the value it is trying to bring to the market.
But there is way more to a brand experience than just a pretty apartment logo or well-designed multifamily website.
Take Amazon, for example, which has consistently ranked No. 1 in the annual Loyalty Leaders List under the online retail category. Amazon's clean and unique logo, paired with its simple and convenient online shopping experience, has garnered fiercely loyal customers.
So, how can multifamily properties evoke the same kind of consumer loyalty in their residents?
In short: Actions speak louder than words. It's crucial for your apartment community to be mindful of your brand and messaging to ensure your core values are reflected on your multifamily website and in everything you do.
Consumer engagement can go a long way in reaching multifamily branding success. And this engagement is not only expected in person but via social media as well. Most residents take to social media for quick inquiries about your property, as well as to dig into complaints. With prompt action, your property can easily turn complaints into satisfaction.
In order to successfully communicate, apartment marketers need to get to know their target audience inside and out. This will enable them to tailor their multifamily marketing efforts to show residents that they truly understand them; this will inspire and motivate loyalty.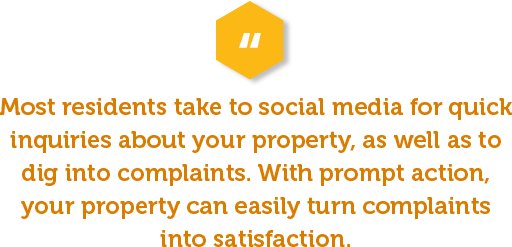 With all of this in mind, how can you actually start building multifamily branding success for your apartment community? Here are our tips:
1. Create your multifamily brand identity
Creating your multifamily branding is about much more than just creating an apartment logo. You must take the time and effort to create a lasting mission statement, come up with a set of core values, and identify what you want your multifamily brand promise to be.
A great example of a multifamily organization that has a strong multifamily brand experience is LVL 29. From the moment you visit this multifamily website, you get a clear picture of who the property is, what it stands for, and how it operates. LVL 29's multifamily website also evokes emotion with a simple, easy-to-understand apartment web design.

2. Identify your multifamily branding personality
You want your brand to portray a unique personality. The first step in creating the personality for your multifamily branding is to identify your brand archetype.
Is your multifamily organization considered an industry leader? Do you tend to be ahead of the curve because your communities have the latest and greatest in amenities? If so, you need to demonstrate that leadership to your market in the colors you use in your brand and the pillar words you use to describe your organization, such as trusted, fun, innovative, connected or inspired.
3. Create buyer personas
Before you can position your brand, you need to get a better understanding of your customer base. The best way to understand your consumers is by interviewing them, analyzing the data, and then turning that data into buyer personas. You can (and should) have more than one persona! Naturally, it would be silly to assume all of your prospective tenants are the same.
Take Anatole at City View for example. You head to its multifamily website and can immediately get a sense of the community culture at Camden. With vibrant imagery, friendly taglines, and conscious pops of color, Camden does a great job of bringing its brand to life.
4. Issue and follow multifamily branding guidelines
Now that you have identified what your apartment community stands for and the perception you want to establish, it's time to issue multifamily brand guidelines so that others cannot destroy your brand's image.
These guidelines include:
Trademarks
A defined color palette with primary and secondary colors that are unique to your brand
Fonts
And don't forget anything extra, like uniforms that your faculty and staff wear while in the office, at tradeshows, or other events. If you don't already have uniforms and branded swag, you can easily order any promo items you need here.
5. Create a story with your multifamily brand
Stories are memorable. Stories create action. Great stories are true. When you create a story with your multifamily brand, people are more likely to remember that story and want to share it with others.
Ask yourself the following questions:
What story does my multifamily community tell?
What will make others want to tell it?
How can I inspire emotion or action through the story I tell?
Who do I want to react to the story?
6. Be consistent with your multifamily branding touchpoints
Renters might find you by your multifamily website, maybe they will see you while walking down the street. Heck, customers might even find you via Twitter. When they do, they should see the same apartment logo, colors, and fonts every time (touchpoint).
In order to be 100% branded, you must be consistent! As apartment marketers, we cannot stress this point enough! Multifamily branding is all about consistency and repetition.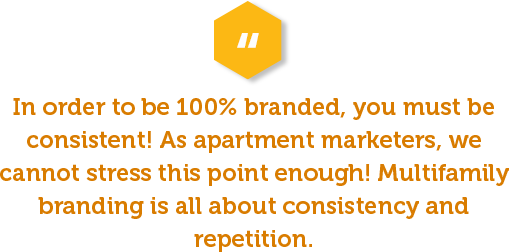 Make Your Multifamily Website and Brand Stand Out
Is multifamily brand experience the future of apartment marketing? We think so.
Residents today value authenticity and meaningful engagement above all else. They are inundated with choices every day, from restaurants and coffee shops to car brands and technology providers — and yes, apartment communities, too.
With so many options, it's crucial your property stands out from the competition. Create a resident experience that will draw your audience to your brand and inspire them to become part of the culture for the long haul.
Now that you know what makes multifamily branding both endearing and enduring, it's time to take action!
Want to learn more about Swifty or have questions about what we do? Check out our YouTube video for a super fun, quick explainer on what we have to offer!