How to Utilize Buyer Personas to Execute a Successful Apartment Marketing Strategy
Every business can benefit from building a buyer persona, and multifamily properties are no exception. When adding detailed buyer personas to your apartment marketing strategy, you ensure your efforts are being targeted to the right group.
Buyer personas are semi-fictional, generalized representations of your ideal renters. But why are they so crucial to the success of your apartment marketing?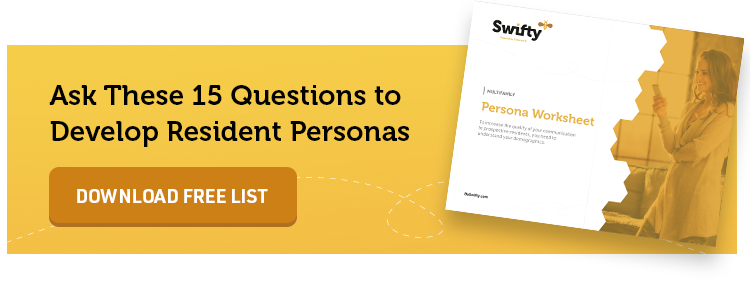 Why you need personas for successful apartment marketing
Buyer personas help keep apartment marketing teams, campaigns, and goals on the same page. They help determine the direction of your multifamily marketing strategy and keep all areas on target — from social media messaging to architectural elements. Knowing your persona (or target audience) inside and out will enable you to create the ideal experience your resident is looking for in an apartment.
Consider, for example, the developer building luxury apartment homes that will target empty-nesters who want to downsize their home while maintaining an active lifestyle. In this case, the marketing team would not create apartment marketing campaigns for millennials who cannot afford the apartments, but would instead research the characteristics of their target population.
The value of buyer personas comes down to effectiveness. In the example above, if all of the apartment marketing materials feature images of young professionals, the empty nester audience would tune it out immediately as it does not resonate with their needs.
By building a buyer persona, you are identifying specific characteristics and stories that personify your ideal resident. Making notes on age, job history, lifestyle, family dynamics, etc., helps your apartment marketing team envision exactly who will be resonating with the content.
For more mistakes you might be making in your apartment marketing strategy, check out our blog 9 Common Mistakes Multifamily Marketers Make.
Implementing buyer personas into your apartment marketing
Once you have resident personas in place that strategically outline who your ideal renters are, it's time to navigate the buyer's journey. The buyer's journey is the process buyers go through to become aware of, evaluate, and purchase a new product or service. This journey is broken down into three stages:
Awareness Stage: The buyer realizes they have a problem.
Consideration Stage: The buyer defines their problem and researches options to solve it.
Decision Stage: The buyer chooses a solution.
When applying this to multifamily housing, it's important to get the right content in front of renters at the right time. You do not want a RENT NOW button flashing on your site when a user first stumbles upon your property. Purchases start with needs that are often paired with many unanswered questions. In order to gain the buyer's trust, you will want to be a resource — not a salesman.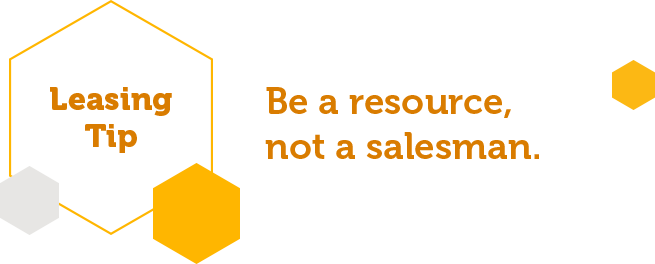 The persona can be helpful as well with content marketing and social media. For instance, you can formulate content based on trends in the buyer persona's interests. Use the persona to highlight the amenities you offer that best meet the lifestyle requirements of your target market. Building a buyer persona gives the entire leasing process a purpose. Otherwise, you are selling the same physical amenities no matter who walks in the door.

The Awareness Stage
In the awareness stage, buyers are not yet aware that your property is an option. While your audience is in the process of sorting through information in this stage, it's important to make them aware of your property without being too aggressive.
Consider the questions running through your persona's head:
"My lease runs up in two months and I don't know where to move."
"My husband and I are ready to downsize our house, but are not ready for a retirement community."
"I'm moving to Phoenix for a job and need a great apartment nearby."
If you are positioned to provide specific solutions to these needs, you will become part of their consideration. Blog about your potential renters' pain points, questions, or concerns. Be sure to optimize keywords on your apartment website and blog so that you rank high on Google for search terms.  
In our digitally-charged world, a majority of your renters are searching online. According to RentecDirect, 72 percent of respondents use the internet first when starting a search for an apartment.

The Consideration Stage
Now that buyers are aware of your property, they move into the consideration stage. They have evaluated different options through research and need more in-depth information before making a final decision.
In this stage, it's fair to start bringing in the competitive advantage of your property while connecting it to an underlying pain point of your audience. When your persona is in this stage, they are open to weighing pros and cons of multiple options.
When it comes to best practices, avoid being too salesy. Promotional content can still come across as resourceful when done right. For instance, if you are targeting young professionals, you can write a blog on must-have amenities for the millennial renter and use yourself as an example of a property that meets the requirements. Use images of your dog park or resident lounge when referencing these trending amenities.
The Decision Stage
In this stage, residents are now prepared to make a decision. However, they still need quite a bit of information to feel confident they are making the right decision. Supply them with opportunities to tour your community in person or virtually. Invite them to a community event to experience the personality of the property first-hand. When a resident transitions to the decision stage, they are open to forward offers or content that directs them to more information. After all, they want to make the right decision, just as much as you want them to!
Keep the buyer's journey top of mind in your apartment marketing
It's important to always keep the buyer's journey in mind when marketing to potential residents; otherwise, you are likely presenting the wrong content at the wrong time. Inbound apartment marketing drives this methodology home by making these stages the core of an apartment marketing plan. Having personas is not always enough — go beyond by identifying where your persona is in the buyer's journey.
Want to learn more about Swifty or have questions about what we do? Check out our YouTube video for a super fun, quick explainer on what we have to offer!