Multifamily Marketing Best Practices to Maximize Occupancy Rates at Your Property
Generating leads and increasing word-of-mouth referrals are critical for multifamily digital marketing success. However, marketers face unique issues when dealing with lead nurturing through the marketing funnel.
For the multifamily market, issues arise from heavy competition from neighboring apartments and issues with customer retention. For developers, problems arise with a lack of awareness limiting incoming apartment leads.

While many methods help generate leads, the best way to ensure continued success is to nurture your leads. Through lead nurturing, continued strategic contact can help ensure that your apartment leads are properly qualified and remain interested in your offerings.
Are you behind the curve on multifamily digital marketing techniques?
The multifamily industry is known for being behind the curve in adapting to the latest trends — especially technology. The same is true for marketing techniques. 
The key to a robust digital marketing strategy is to attribute value to that strategy. Many property managers fail to do so, which hurts them in the long run. When people think of multifamily digital marketing, they think of casually posting on social media or hiring a freelancer to create a quick blog. But for multifamily digital marketing to truly work for your property, these items must be run more strategically than for a casual user.
The multifamily industry has seen significant growth over the past few years. With demand increasing, multifamily properties need a stronger presence online to stand out among competitors. Digital marketing can help multifamily owners achieve their objectives by providing powerful tools and strategies for reaching potential residents.
Let's dive into these methods…
1. Optimize your website with SEO
One of the most effective strategies for multifamily digital marketing is using search engine optimization (SEO). SEO can be a powerful tool for multifamily properties to lease up quickly. It can help increase the property's ranking in organic search results, drawing more attention from prospective residents. SEO includes optimizing the multifamily property website, creating high-quality content, and using targeted keywords.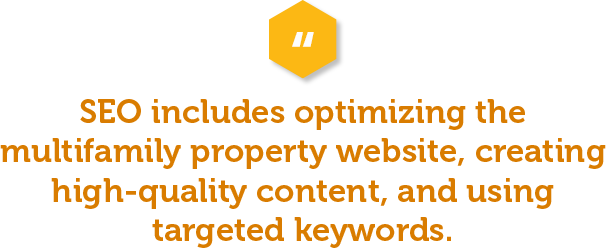 Optimizing the multifamily website will draw in more renters and help them find the information they need about the property quickly and easily. Additionally, creating high-quality content with targeted keywords can help property managers reach prospective renters in their area who are searching for specific terms related to the apartment. 
Your multifamily website should include leasing information, photos, floorplans, and nearby attractions. It should also have a customer service feature where users can quickly find answers to their questions.
Swifty's apartment website templates are designed to generate results. Unlike competitor platforms, we focus on multifamily SEO from the ground up, with best practices in place to improve search rankings.
2. Stay in touch using email marketing
Additionally, using email campaigns to stay in touch with existing and potential residents can be a great way to keep your property top of mind. Email campaigns are an effective and affordable way to stay in front of potential renters and keep them updated on availability, specials, and other news about multifamily property. 
Additionally, emails have high open rates, so it's an excellent way to quickly reach a large number of people. Email marketing tools make it easy for property managers to create automated emails at specific times or when certain events occur, such as when a resident moves out or renews their lease.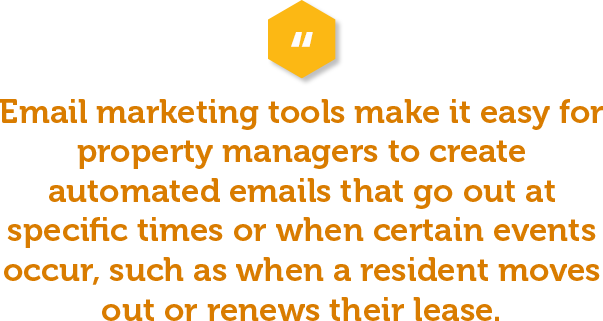 3. Create relationships on social media
Social media is another important multifamily digital marketing tool you should take advantage of. It allows multifamily owners to reach potential renters by engaging with them directly on platforms such as Facebook, Instagram, and Twitter. Through social media, multifamily owners can increase brand awareness and create relationships with current and future residents.
Our best advice for social media? Don't just randomly post to create an online presence. You need to actively engage with your followers to grow your account and generate new leads in your property.
Want more advice on how to leverage social media best? Check out our blog for more tips and best practices, including what type of content to share and how to utilize Instagram Reels to your advantage.

4. Reach more prospects with PPC ads
Finally, another multifamily digital marketing strategy is pay-per-click (PPC) campaigns. PPC campaigns are an effective way to quickly reach many prospects online through targeted ads on search engines like Google or Bing. These ads will only be displayed when people search for specific terms related to your multifamily property.
5. Use incentives and surveys to increase referrals
To encourage word-of-mouth referrals, consider offering incentives such as rent discounts or gift cards to current residents who refer new renters. Additionally, ensure that your property is attractive and well-maintained so that visitors will be more likely to spread positive information about it. 
You can also use customer feedback surveys to understand what people appreciate about living there and what could be improved upon. This will help you enhance the experience for existing residents and increase their likelihood of recommending your property.
Increase Occupancy Rates With Multifamily Digital Marketing
By utilizing multifamily digital marketing strategies such as SEO, social media campaigns, email campaigns, and PPC advertising, multifamily owners can reach a larger audience of potential tenants and grow their rental business quickly and efficiently. With the right multifamily digital marketing strategies in place, multifamily owners can enjoy increased occupancy rates and happy residents.