Where and How to Advertise on Your Favorite Podcasts
For decades, radio advertising was the advertising method. But with the rise of the internet, this type of paid media fell on the back burner for many businesses as they tried to capitalize on the scope and accessibility of the new digital advertising.

Even more so, this form of advertising in the multifamily space is rarely even discussed. We believe this is a mistake.
What exactly made (and still makes) radio ads so successful? It wasn't because they were simply on the radio, it was because they were audio-based. 
Audio ads drive 24% higher recall on average than visual ads (FB, Google, etc.) Also, adding audio ads to your paid media mix can increase conversions by as much as 83%, according to Audacy research.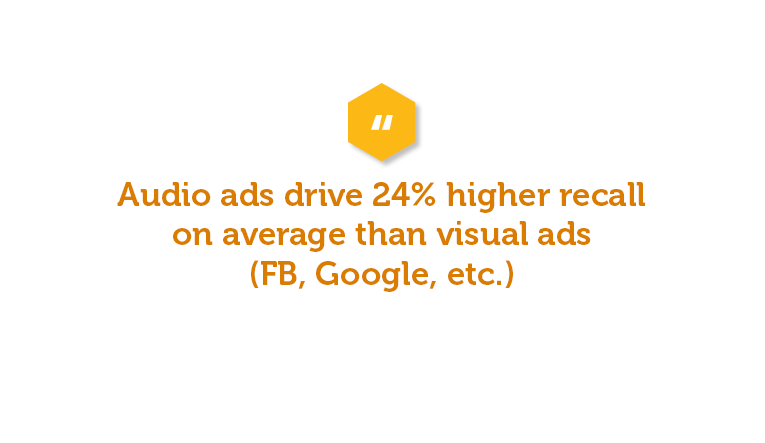 So, where can you implement audio ads that will be heard by your millennial and Gen Z renters)? The answer is podcasts.
The Podcast Advertising Boom
Podcasts are the "new radio" for this generation and an incredible opportunity to advertise your property and get more prospects through the door to tour. 
As digital advertising grows, podcast advertising becomes a more attractive medium for multifamily marketers. Podcasts provide an opportunity to reach a wide and engaged audience with targeted messaging.
SXM Media is an awesome company that offers podcast advertising with a minimum budget as low as just $200/mo. We are not connected with this company in any way, we think it's a great toe into audio advertising. We tested it for some of our clients and it was such an easy process. They even have voice actors who can record your audio ads for just $10/ad. 
Not sold on the idea yet? Here are a few more benefits of podcast advertising for apartments:
1. Increased brand awareness
Podcast advertising is a great way to increase brand awareness and build relationships with potential renters. When people hear your ad on their favorite podcast, they will become familiar with your brand and remember it when they need an apartment community in the future. 
Plus, if your ads sound natural and conversational, listeners will be more likely to engage with your message without feeling like they're being sold something.
2. Undivided attention
Unlike other forms of media, when a user is listening to a podcast, they are not listening to or looking at any other forms of media. This means their full attention is on what they are listening to. They listen to their favorite shows regularly and pay attention to the ads that air during them. This is one of the factors that makes audio ads so successful.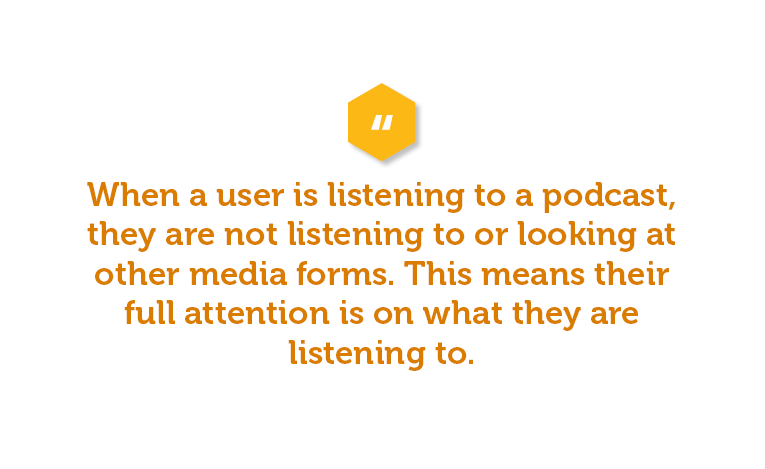 According to The Infinite Dial 2020 Report from Edison Research and Triton Digital, 68% of monthly audio streamers reported hearing an ad for a brand or product on podcasts in 2019 — up from 61% in 2018. This means podcast listeners not only remember advertisements but also act on them.
3. Podcast ads have a high-purchase intent
Because podcast listeners are highly engaged, they also have high purchase intent — meaning they're likely to respond and take action when exposed to ads on podcasts. According to Midroll Media, 67% of all listeners said they had taken action after hearing an ad on a podcast — a number that rises even higher among those who frequently listen (72%). 
Further, 88% of frequent listeners purchased something after hearing an ad on a podcast in the past month. There's no shortage of eager buyers among your potential audience regarding podcasts.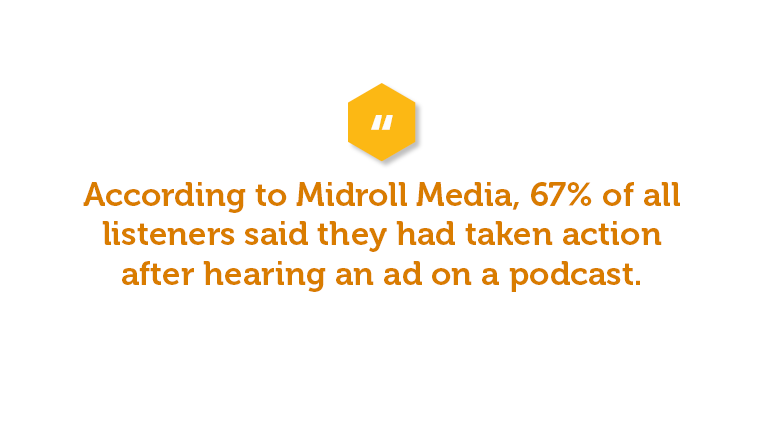 4. Cost-effective advertising
Plus, you don't need a big budget. With podcasts, you only pay when your ad is played, so there are no extra costs or overhead expenses associated with running ads. Plus, many podcasts offer discounts for long-term commitments or memberships that could help you save money in the long run.
5. Specific demographic targeting
Podcasts can also help target specific demographics and interests that are relevant to your apartment community's target audience. You can target podcast listeners from specific locations, such as a 20-mile radius of your property. You can choose from shows that already have an established following, or you can create your custom podcast ad campaign tailored specifically to your audience's needs. This allows you to hone in on potential renters who are interested in what you have to offer.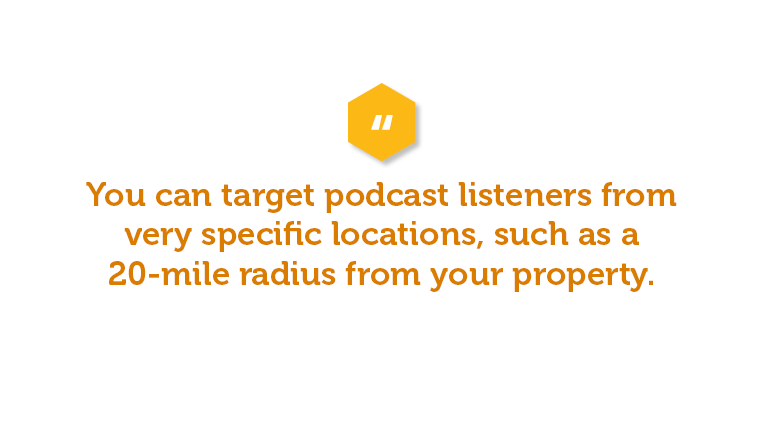 Reach Your Prospective Residents Quickly and Efficiently
The stats don't lie — podcast advertising is worth investing in if you want results. Advertisers haven't shied away from investing money into podcasts even during times of uncertainty — proof positive that podcasts have staying power when it comes to multifamily marketing success. 
Now is ideal for multifamily marketers who want to tap into powerful new channels like podcasts for marketing success. With 68% of monthly streamers reporting remembering hearing advertisements and 72% taking action after hearing ads specifically targeted towards them, it's safe to say that your target demographic is paying attention and ready to act.
Podcast advertising provides multifamily marketers with a unique opportunity to reach their target market quickly and efficiently while also building relationships with potential residents along the way.
Plus, it's affordable and easy to track, so you know exactly how successful each campaign performs over time. So, if you're looking for new ways to advertise your apartment community online, then consider giving podcasting a try!