Why Your Multifamily Property Is Losing Apartment Leads
The past year has been tumultuous amid COVID-19 and economic changes, which resulted in many renters choosing to stay in their apartments. And while this is a good thing for properties, it did negatively impact apartment lead generation for many properties worldwide. With the rolling out of vaccines and additional stimulus legislation, the job market is expected to rebound this year, leading to greater housing demand, according to Freddie Mac's Multifamily 2020 Midyear Outlook.
While it is not clear what the future holds, it is still critical for property managers and multifamily marketing professionals to not let apartment lead generation fall by the wayside. An effective apartment lead generation strategy means property professionals will spend less time chasing prospective renters who are not interested and more time pursuing qualified apartment leads.
Today's customers prefer to research and shop online, rather than waiting for your business to come to them. Whether your multifamily property is small or large, this has great implications on your multifamily marketing strategy and your ability to speak a digital language. And this coupled with how you respond to apartment leads can make or break your success.
In this blog, we will take a look at how apartment owners and operators can use thoughtful apartment lead generation strategies to keep occupancy high and add to their bottom line.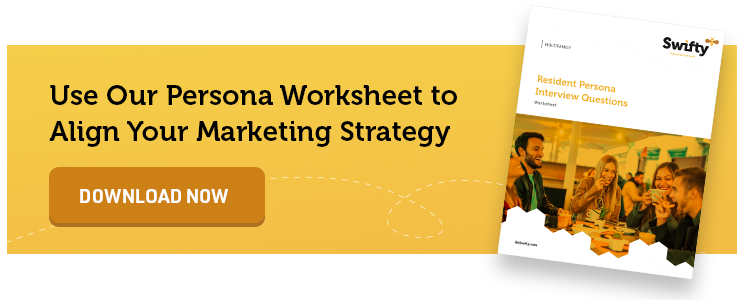 Why are apartment leads critical?
Those who grew up in the era of GI Joe likely remember that "knowing is half the battle." So, what's the other half?
Doing something about it.
If an apartment lead is a piece of information that tells you someone has found your property, how you respond to that apartment lead is the difference in whether you actually gain their business. A healthy apartment lead generation strategy is beneficial because it will help you avoid seasonal slumps, and help you scale your multifamily websites when tested.
Why are you losing apartment leads?
A critical question to ask about your apartment lead generation strategy is what it typically does after a lead comes through. There are two avenues here:
1. You contact the apartment lead to make a sale. When a sale is not made, move on to the next. This removes energy and expels it from the pipeline.
2. You nurture the apartment lead and seek to better understand the needs of the potential customer.
If your answer is the former, here's the problem: They might not be ready to rent an apartment unit now, but they were interested for a reason. In a market that is increasingly buyer-directed, they found you. And they might be ready to rent in the future. Perhaps it's not the right time, or perhaps they need something slightly different.
Either way, "lead nurturing emails are a great way to learn more about your [apartment leads]," and results in a "23% shorter sales cycle," according to HubSpot Marketing.
Establishing contact immediately, following up with relevant questions, and maintaining consistent communication with your pipeline will keep it healthy … and keep it interested.
How can you recapture and maintain apartment leads?
Get personal and get digital.
1. Target the right persona.
Renters don't just want to see the amenities you offer; rather, they want a personal connection — a home. By targeting audiences and writing carefully crafted content, multifamily marketing will generate more apartment leads for your property.
You should offer content that informs and educates your audience. Doing so not only helps educate the audience but enhances your multifamily SEO. If your team is creating content for audiences that are not interested, you will receive little return from the multifamily marketing campaign. To figure out who your property's best target audience is, develop resident buyer personas.
2. Be personal and nurture your apartment leads.
Customers today want to be reached on a personal level before choosing a product, and your apartment lead generation strategy should take this into consideration. Rather than simply following up with an apartment lead, plan to nurture it. It might take time, but regular touchpoints focused on your potential customer's needs will lead to a healthier pipeline and future growth. Make sure to do your research so you know your content aligns with your target audience. If you take the time, you will see the results on your multifamily websites.
3. Reach your audience where they already are.
According to eMarketer, nearly 80% of Americans are now using the internet daily. Moreover, an astounding number of them are using their phones to get online. A multifamily marketing plan is only worth the residents following it, so make sure yours is on their platform. And when they find you, take the time to understand them.
4. Provide relevant, reliable content to your apartment leads.
Marketers commonly make the mistake of over-producing content on their multifamily websites. Most believe that if they are not pumping out information 24/7 they will lose apartment leads and residents. This then causes them to create an overflow of content that tends to be less relatable to the target audience. Rather, focus on what you want to put out there, and create engaging content for your multifamily websites. It is not the end of the world if you do not post a blog for a few days, or if you miss a post on Instagram. It is more important to have high-quality content than high quantity.
5. Focus on your multifamily SEO efforts.
Simply having a multifamily website and blog is not enough when it comes to your apartment lead generation. If you want your property to rank higher in search results and rake in new apartment leads, you need to put in the legwork. Multifamily SEO (search engine optimization) refers to the process of making your website more easily discoverable in search engines like Google. When a user searches for "luxury apartments with a pool in Dallas, TX," you want your property to appear on the first page to increase the chance that the searcher will find your multifamily website and become a lead. Multifamily websites with strong keywords, meta descriptions, high word count, and page titles, will generally rank higher in Google search.
Invest in multifamily SEO tools like SEMRush, Linkgraph, SEO Moz, and more to help kickstart your apartment lead generation strategy. Be patient with your multifamily SEO efforts, as it can often take months to deliver results based on a variety of factors including keyword relevance, apartment web design, social media activity, and search engine algorithms.

6. Maintain a flexible apartment lead generation strategy.
As Baby Boomers look toward retirement, the businesses they have run will soon be restructured by generations who trust online technology. And while these processes are critical to your success, digital multifamily marketing is not one-size-fits-all — and neither is your apartment lead generation strategy.