Why You Need to Make Gen Z Renters Part of Your Apartment Marketing Strategy
While millennials have historically garnered all the attention from multifamily apartment properties, Generation Z is quickly overtaking the rental market. This age group — typically born between the mid-1990s and 2010 — is starting to seek housing without the help of their parents.
Gen Z, often misconstrued as millennials, makes up about 27.7 percent of the U.S. population and accounts for $29 to $143 billion in direct spending, according to various estimates. As such, this young population should definitely be an extremely important part of your apartment marketing strategy. Gone are the days of traditional marketing, as this generation has a shorter attention span and a mobile-only mindset.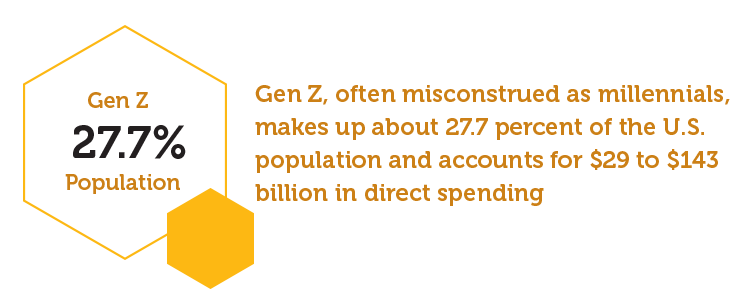 Gen Z renters are looking for efficiency in the leasing process, new communication channels, and enhanced amenities. As these young adults continue to enter the rental market, it will become increasingly important for you to understand their expectations. Consider the following strategies to attract Gen Z renters:
1. Implement a mobile-first apartment marketing strategy.
Having grown up with technology, Gen Z is unable to comprehend a time before the digital age. They've never heard the AOL voice chime "You've got mail!", nor have they listened to the maddening tones of dial-up Internet. To this group, the Internet is their one-stop-shop for everything — and that includes where they choose to live.
As such, this generation typically has a much shorter attention span. Research shows that compared with millennials and other age groups, Gen Z spends much more time accessing the internet via a mobile device rather than through traditional PCs. In many cases, it's the primary way they connect.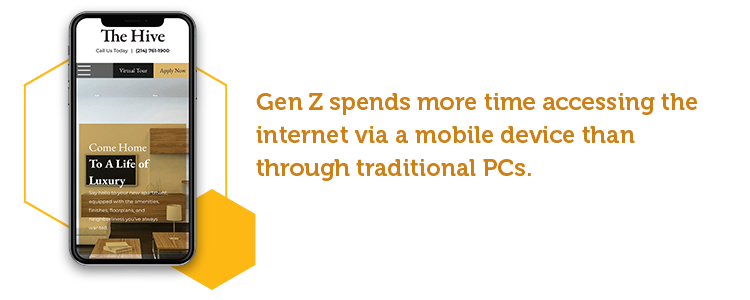 2. Get social.
With technology at their fingertips, everything of interest to Generation Z is connected to social media. Your apartment marketing should focus extensively on the most popular social media platforms (i.e., Facebook, Instagram, Snapchat, and Tik Tok), and continually adapt, as new social tools gain popularity.
While these young adults are known for their multitasking abilities when juggling various social platforms at once, they are also known for "scrolling." Your social media ads should, therefore, be attention-grabbing and specific. Hone in on your core message quickly or risk losing engagement.
For best results, focus your apartment marketing efforts on videos and other visually appealing content. Bold graphics, vibrant colors, and playful fonts are great ways to capture Gen Z renters' attention. If appropriate, include Gifs and other fun content to spark their interest.
3. Prioritize efficiency for leasing processes.
A mobile-first strategy is important when it comes to communication and the leasing process. Gen Z is unlikely to hand-write a rent check or manually fill out a leasing application. They expect everything online, which includes leasing paperwork and payments.
4. Utilize photos and videos for online listings.
Due to their reliance on technology, Generation Z spends a lot of time educating themselves before making a purchase. As such, you will want to appeal to their online preferences when listing your property. For example, many of these young adults expect to see a lot of photos, videos, and links to view the apartment online. They want to engage with the property, unit, and amenities digitally before they will visit personally.
5. Harness mobile communication channels.
Forget phone calls; texting and online chats are the preferred method of communication for Gen Z renters. In fact, a recent study found that about 96 percent of this age group owns a smartphone, and the majority of them prefer texting over physical phone conversations. Utilize texting and develop other lines of communication through a property email platform or an app.
6. Highlight the right amenities.
Gen Z is different than millennials in that they are more sedentary and less prone to be attracted to amenities like a swimming pool or on-site fitness center. Research shows that Gen Z renters are looking for common spaces to mingle with their neighbors. Therefore, it might benefit you to focus your attention on advertising indoor and outdoor lounge spaces and other shared amenities. It's also beneficial to highlight co-working space and walkable restaurants that will appeal to Gen Z's desire for community.
7. Take to social media for online reviews.
Unlike former generations, Gen Z renters prefer to take their reviews and questions to social media rather than posting on online review websites like Yelp. While this generation has not completely ditched traditional online review sites, word-of-mouth communication is more valuable to them, likely because they are warier of misleading online testimonials. When marketing to Gen Z renters, consider focusing your efforts on social platforms, push reviews on these platforms, and connect with as many people as possible in order to organically spread the news of your amenities and features.
A Core Component of Apartment Marketing: Gen Z Renters
Although Generation Z and millennials may seem similar, the social differences are evolving quickly. The key when marketing to Gen Z renters is to not only understand how technology impacts them, but also how to leverage efficiency and social features to pull in a new wave of renters.
Now that you know the prominence and buying power of Gen Z renters, the next step in your apartment marketing strategy is to develop your buyer persona so that you can effectively market to these individuals and your other target buyers.
Get started with our free Resident Buyer Persona Worksheet!