How Can Resident Satisfaction Be Gauged?
Property managers constantly seek new ways to provide the best possible resident experience and gauge resident satisfaction. A great way to do this is to conduct and analyze a resident satisfaction survey.

By asking the right questions, property managers can gain valuable insights into how satisfied their renters are, what issues need to be addressed to improve the experience, and any potential opportunities that could lead to increased apartment renewals.
1. Craft Meaningful Questions That Offer Valuable Insight
One of the most important aspects of running a successful resident satisfaction survey is crafting thoughtful, meaningful questions that give you actionable insights into the tenant experience. Questions should focus on specific areas such as:
Maintenance
Security
Customer Service
Amenities
Lease Experience
Online Resources
Additionally, it's important to ask open-ended questions that allow your tenants to provide detailed feedback.
Here are some apartment resident satisfaction survey questions you should be asking:
Are there any in-unit amenities that you wish you had?
Is there an amenity that would be worth a small rent increase?
Are maintenance requests handled to your satisfaction?
Is it easy to access your tenant portal to pay rent each month?
How would you rate the portal's user interface?
How would you rate the property website?
How easy is the property website to navigate? Did it answer your questions?
How would you rate the following areas of the property? (Leasing office, amenities, shared spaces, clubhouse, etc.)
Is our staff friendly, accommodating, and helpful?
Was it easy to apply for or renew your lease?
Is it easy to submit and track maintenance requests?
How easy is it to communicate with our leasing team?
Do you prefer to text or email when communicating?
Are there any issues not addressed in the past six months?
What's been your favorite part of living in this community?
Was the staff helpful in explaining your lease terms?
Did you feel like your money and personal information were handled securely?
How could the leasing process be improved?
How likely are you to renew your lease or refer a friend?
2. Create a Feedback Loop With Automated Survey Tools
Automated survey tools like Survey Monkey are powerful for property managers who want to create highly effective resident satisfaction surveys. Such tools enable you to quickly and easily create surveys with customized, targeted questions tailored to your needs.
Additionally, automated survey tools provide an analytical layer that makes it easy to interpret data quickly, identify multifamily trends, and gain valuable insights. Leveraging this data allows property managers to identify problem areas to make changes that will improve the resident experience and lead to higher levels of apartment renewal rates.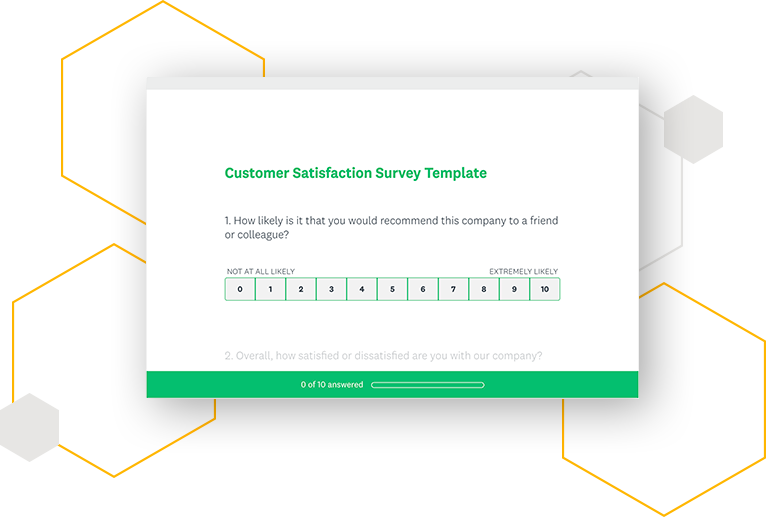 These tools also provide a platform for two-way conversations between property managers and their renters — allowing quick feedback loops so that issues can be addressed quickly and efficiently.
3. Customize Your Surveys for Anything
The best part about resident satisfaction surveys? You can customize them for anything you want, which can be incredibly helpful for your apartment marketing team. Are you wanting to know which amenities are the most used so you can prioritize making changes to them? Ask! Want to change the landscaping or exterior paint of the building? Run a poll in the community to see which color paint they prefer. Interested in changing the pet policy soon? See what your tenants think!
Involving the community will help them feel more connected with the property and feel like their voices are being heard.
4. Promote the Survey to Earn More Responses
Once you have crafted your survey, it's time to launch it. Ensure you get the word out via email and/or social media so that all your renters know about the survey. Once you begin receiving responses, review them carefully and document any trends or insights you discover. This is a great way to find out what's working well and needs improvement.
5. Incentivize Participation
Incentivizing your apartment tenants to participate in your resident satisfaction survey is key to gaining valuable insights.
One way to increase participation is to offer incentives for completing the survey. These incentives range from utilities, rent discount gift cards, or even a raffle for a larger prize. Offering incentives encourage them to give detailed feedback and allows them to complete the survey promptly. It can also offer more comprehensive feedback and results to improve customer service and increase apartment renewals.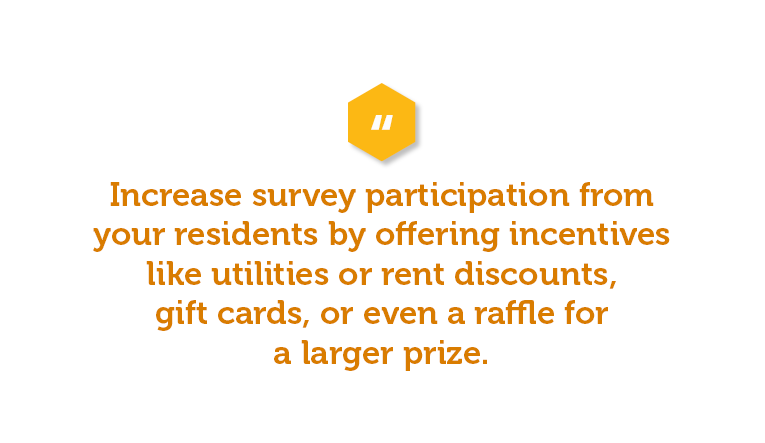 6. Encourage Detailed Feedback With Multimedia Elements
Another great way to incentivize participation is through multimedia elements. In addition to offering photos, videos, and other engaging visuals, allow renters to submit their photos, videos, or audio recordings that depict their experiences with management and maintenance staff. This also creates an interactive approach that can engage more people than just written responses alone.
7. Communicate With Your Renters
Your leasing staff should regularly communicate with renters about why participation is crucial. Ensure your tenants understand why their feedback matters and how it will help create an improved resident experience overall. Additionally, discuss how the data gathered from these surveys will help you better understand what services or amenities they would like to improve so you can make changes accordingly.
Improve the Resident Experience With Actionable Steps
These surveys are all well and good if you use the information to make changes. Be sure to use the data from your resident satisfaction survey to take actionable steps. Consider implementing changes such as introducing new amenities or services, providing additional security measures, or offering more engaging resident events. Then communicate these changes via email blasts, newsletters, and social media.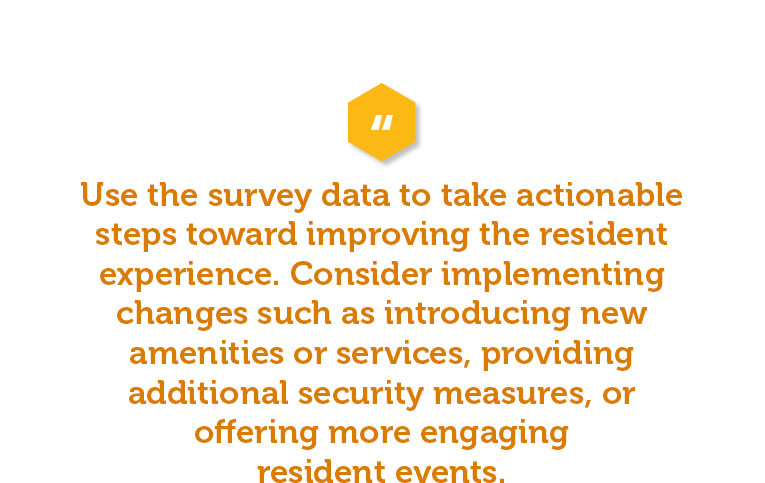 By getting the most out of your resident satisfaction survey, you can ensure that your tenants are satisfied and their needs are met. Doing so will improve the community and increase apartment renewals in the long run.