3 Multifamily Trends Impacted By COVID-19 (Or Were They?)
Over the course of the past few years, the questions surrounding multifamily shifted from "How can I protect my residents and keep my property clean?" to "What does this prolonged pandemic mean for my property and bottom line?" to finally landing on, "Are there any changes I need to make to my property and management post-COVID?"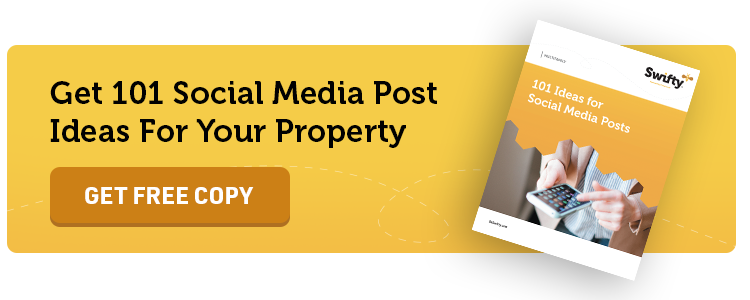 According to the latest Emerging Trends in Real Estate report, the pandemic may not have generated a slew of new multifamily trends as expected, but it did accelerate trends that were already gaining ground. It also stopped some trends in the track.
Let's discuss…
Big cities with little appeal
Perhaps one of the biggest and most interesting multifamily trends affected by COVID-19 was the rising appeal of big cities. For decades, the revitalization, renovation, and growth of many of the country's largest cities have been the talk of the town. With booming tourism, office buildings, mass transit, and live entertainment gaining ground, big cities were primed to be the cream of the "multifamily crop" so to speak.
That is, until the pandemic. Once COVID-19 hit, everything curtailed and many residents not only left their apartments but left these bustling cities in favor of small towns (and less contagious areas).
While these large cities are likely to struggle for the next couple of years in this post-COVID world, the pause in their appeal is not expected to be permanent. According to the Emerging Trends report, Boston, New York City, San Francisco, Los Angeles, and Washington are poised to regain their vivacity and appeal within the next three to five years. This appeal is all thanks to their strong entertainment, technology, education, and finance markets.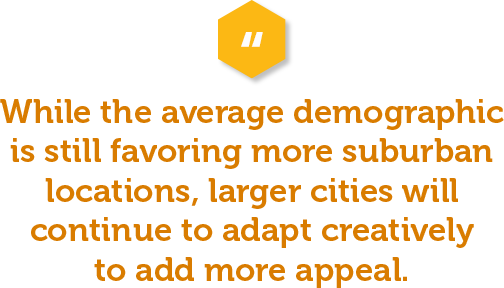 And while the average demographic is still favoring more suburban locations, larger cities will continue to adapt creatively to add more appeal with outdoor activities, green space, and improved living conditions. So even though big cities are still down, they are not out.
The acceleration of virtual tours for apartments
When COVID-19 hit, there was an undeniable rush for apartments to offer more virtual tour options on their websites. There seemed to be an initial fear that if you didn't have comprehensive videos and organized virtual tours, you'd be left behind and lose out on new leads.
This "trend" was certainly understandable given strict lockdown restrictions and public fear to leave your home. However, virtual tours were not a new trend.
Many leasing agents were offering these prior to the pandemic but at a much slower (and less desired) pace. At that time, residents valued the ability to virtually tour an apartment before carving time out in their day to then go visit the property in person. It was also a great tool for out-of-state transplants searching for their next home.
But once COVID-19 hit, the need for virtual tours dramatically accelerated. Now, prospective renters can view floorplans and layouts on the multifamily websites to find available units, then either do a live FaceTime video walk-through, review a prerecorded video of the specific unit, or even book an in-person private tour.
While virtual tours were not a novel multifamily trend, the acceleration of these offered new avenues for properties to bring in new leads without a lot of work and for a lower cost (i.e., not wasting their leasing agent's time with in-person tours for prospects who are not going to end up leasing).
Another tour option gaining ground is allowing prospective renters to do a self-guided tour. This type of tour is when the prospect is given a key fob to tour the property on their own time (without a leasing agent). While not ideal, it does offer the advantage of freeing up your leasing agent's time while allowing prospects to get a feeling for the space on their own.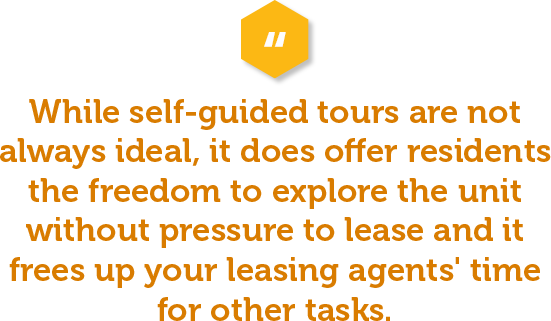 The rise and fall and rise again of multifamily marketing
When any shift in the economic environment occurs — be it political, a pandemic, a global crisis, or otherwise — one of the first budgets to go out the window is often marketing. This is particularly accurate if any of your marketing pursuits are outsourced to third parties, like a digital marketing agency or graphic design company.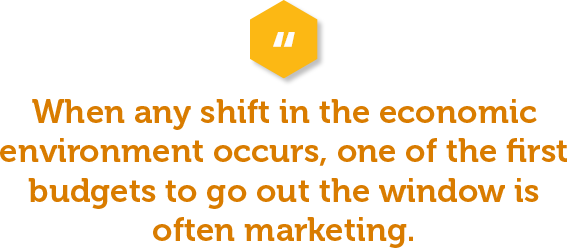 This was particularly true for the multifamily marketing world when COVID-19 hit. Some companies slashed their budgets while others cut them out altogether.
However, some properties realized it was a smart business move to stay the course with their marketing budget. Ultimately, while you should consider reducing your top-of-funnel ad spend, it's not advisable to abandon it altogether. It's critical to ensure your properties are in a position to power back during an economic recovery.
So has multifamily marketing bounced back? Well, it didn't so much as bounce back as it did transform. Many properties shifted their strategy from a focus on new leases to a focus on retaining residents. With resident retention increasing, this is a prime opportunity to increase resident satisfaction, and subsequently retention, at your property. In other words, maximize on the fact that your residents already don't want to move during this economic climate.
What are your thoughts? How has your multifamily marketing changed? Do you see any other multifamily trends impacting the market?