Top 5 Apartment Lead Generation Strategies to Keep on Your Watchlist
It's a new year, which means new strategies, new marketing methods, and new trends to keep on your watchlist. However, as we all know, history often repeats itself — and multifamily marketing is no exception.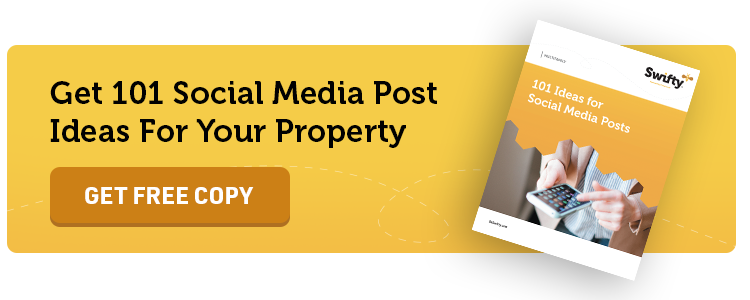 As such, we took a look back at some of our best-performing blogs of 2021 to piece together a few hot trends from 2021 that you should keep in mind as you jump into your 2022 strategies and goals.
1. Social media is still booming, and you need to be smart about what you publish.
Pre-pandemic and post-pandemic, social media is here to stay. And it's not just the millennials and Gen Z swearing by it — Gen X, baby boomers, and multifamily marketing professionals (AKA your competitors) are using it too.
Social media usage is one of the most popular online activities; in fact, 82 percent of the U.S. population had a social networking profile in 2021, representing a two percent increase from the previous year. This presents many opportunities for multifamily marketing and apartment lead generation.
One of the first things to realize about social media for apartments is that it's not a microphone for self-promotion. While there's a time for that, interruptive promotion isn't effective. Rather, use social media as an opportunity to be a resource, a thought leader, or a value-add for your audience.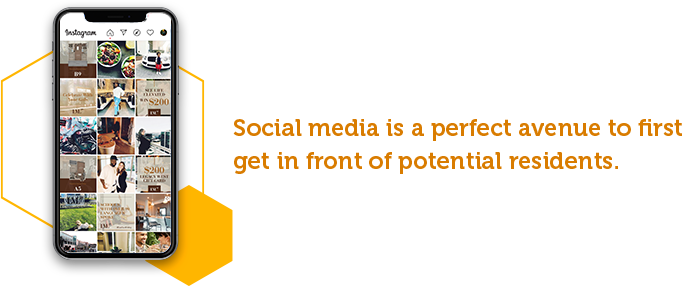 Want to learn more? Check out our original blog all about leveraging social media for apartments here.
2. ADA compliance for apartments is a necessity.
The most recent version of the Americans with Disabilities Act has been around for over 10 years — so why is there suddenly so much chatter about ADA compliance for apartments now?
The past few years have seen a significant increase in federal lawsuits filed against businesses, alleging that their multifamily websites violate the ADA by not being accessible to people with disabilities. In a recent study, it was found that 98 percent of the world's top 1 million websites are non-compliant.
Let's also not forget that ever since the emergence of COVID-19, we have merged even more onto the online space as an entire industry. Apartment tours and the majority of potential renter communication are now happening online. An accessible and compliant multifamily website has never been more important.
As you might imagine, there are many steps and procedures that go into making a multifamily website ADA-compliant. Find all those tips in our ADA compliance for apartments blog here.
3. Resident engagement can go a long way in reaching multifamily branding success.
Consumers are more willing to purchase products, including signing a lease, if they believe they will have a positive experience. In fact, many consumers are willing to pay more for a multifamily brand experience.
There is way more to a brand experience than just a pretty apartment logo or well-designed multifamily website.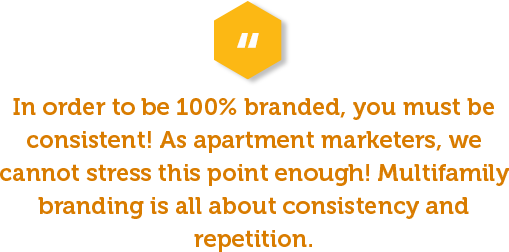 Take Amazon's branding, for example; Amazon's clean and unique logo, paired with its simple and convenient online shopping experience, has garnered fiercely loyal customers. So, how can multifamily properties evoke the same kind of consumer loyalty in their residents?
In short: Actions speak louder than words. It's crucial for your apartment community to be mindful of your brand and messaging to ensure your core values are reflected on your multifamily website and in everything you do.
Get more multifamily branding tips in our blog here.
4. You need to focus on your multifamily SEO to continue growing your online footprint.
Tired of constantly reading about the importance of multifamily SEO but never understanding how to achieve optimized blog content on a fundamental level? More specifically, do you long to know the exact steps you can take to rank higher in search results?
By using a good ratio of content to keywords for your multifamily SEO, creating a hierarchy of targeted headlines, and providing Google with all the information it needs to know about your blog, you can increase website traffic — and ultimately turn more leads into leases.
Learn all about the keywords you should be focusing on and how to properly use them in our blog, The Ultimate Guide to Crafting Highly Optimized Blogs.
5. Make sure to alter your multifamily marketing strategy to include Gen Z renters.
Unless your property only targets older generations, you need to be inclusive with your multifamily marketing efforts to get the most out of your apartment lead generation. Gen Z makes up about 27.7 percent of the U.S. population and accounts for $29 to $143 billion in direct spending, according to various estimates.
Gen Z renters are looking for efficiency in the leasing process, new communication channels, and enhanced amenities. As these young adults continue to enter the rental market, it will become increasingly important for you to understand their expectations.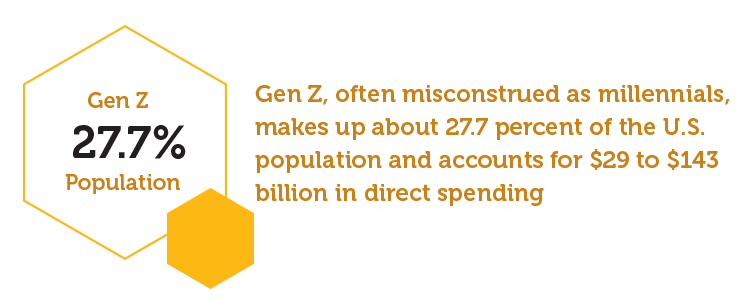 For more multifamily marketing strategies to attract Gen Z renters, check out our blog here.
Mix Up Your Multifamily Marketing Strategy in 2022
While you might toe the line and think your multifamily marketing strategy is working well enough to get by this year, it's important to reevaluate every year to account for changing demographics, new tactics, and economic factors that may impact the market. As you strategize for 2022, keep these top trends in mind from last year to help form new goals and tactics that will help improve your apartment lead generation.