Resident Event Ideas to Try This Year + Tips to Execute a Successful Strategy
It's no secret that resident events can help cultivate relationships between your renters, turning strangers into friendly neighbors. This, in turn, can impact your turnover rate. After all, fewer neighbor squabbles equal happier residents and more word-of-mouth referrals, right?
Not to mention that resident events are an integral part of any multifamily marketing strategy.
All of that aside, planning a successful resident event is much easier said than done — especially for the busy multifamily marketing professional.
To help guide you in your 2022 event planning and brainstorm fresh resident event ideas, we spoke with Jese Gary, owner of LuxeGiving LLC. Jese helps property managers improve resident retention through event strategies and unique resident event ideas.
60 Resident Event Ideas – Easily Plan More Resident Events and Increase Resident Retention in 2022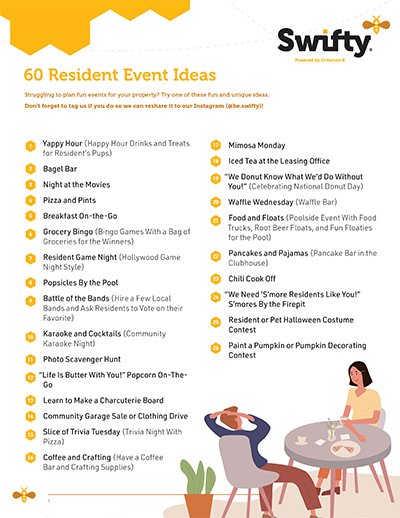 Should you host resident events in 2022?
Jese Gary: We are in an era where people want to feel appreciated. In general, customers value companies that provide value-added services to produce brand loyalty. Resident events and appreciation are for property managers. Yes, some residents will not care. Yet, there's a fair amount that does care.
Appreciation can equate to value and caring. When a resident doesn't feel valued and has strong opinions about the management "not caring," they will likely move to another property upon lease renewal season.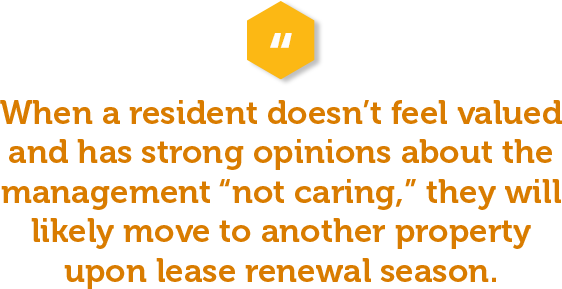 What resident event ideas can you plan on a limited budget?
JG: In my opinion, budget is not relative to a quality event. I think you can do a great event on a limited budget with an excellent presentation. Simple breakfast on the go presented in lovely baskets, platters, and display containers can show appreciation. Where some communities fall short is in the presentation. Presentation matters! A setup where everything seems an afterthought or rushed does not convey appreciation. It is important to remember the core reason for hosting the event.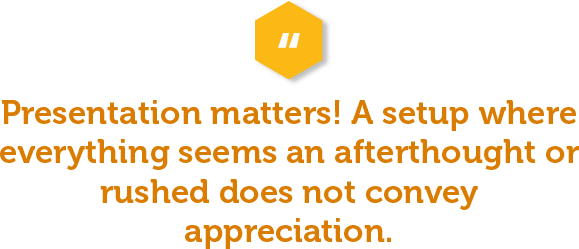 For limited budgets, I love when communities play off food holidays. There is a holiday on each day of the week. You can do minor-scale food holidays on a budget, like National Donut Day or National Chocolate Chip Day. The key to executing a food holiday or resident event is being clever and creative. You can find unique holidays at holidayinsights.com.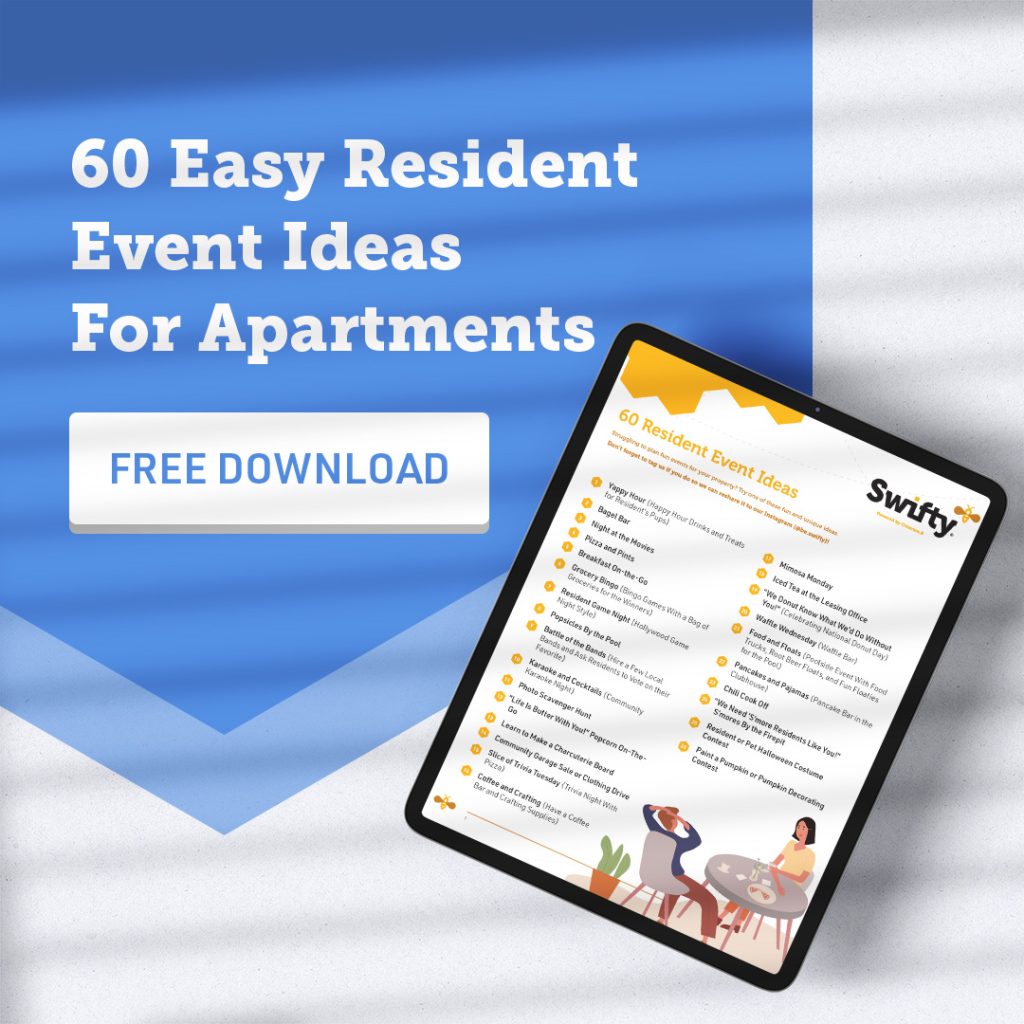 What are some luxury event ideas?
JG: My favorite higher-end events are elevated brunches or happy hours with live music. It's a fun way to have entertainment and food. The live entertainment helps keep residents in the community spaces.
Due to the pandemic, there's been a push toward the grab-and-go event method. In the past, I used to gauge the event's success based on how long people stayed in the space.
A great event creates community and a good time. I think there will be an adjustment back to gathering over the next few months or years. The goal of the events wasn't just to feed the residents. The goal is to create a sense of community.
How can resident events generate more apartment leads?
JG: I love when communities create Instagram or social media shareable moments. In this day and age, a person's experiences can be a brand's multifamily marketing. I saw when residents were surprised by their community's effort to organize an event and immediately bragged to friends.
People will not shut up about the things they love. On the other hand, people will not shut up about the things they hate. Thoughtful, constant resident events will create living billboards for management companies. Residents will generate apartment leads directly through word of mouth or indirectly through social media.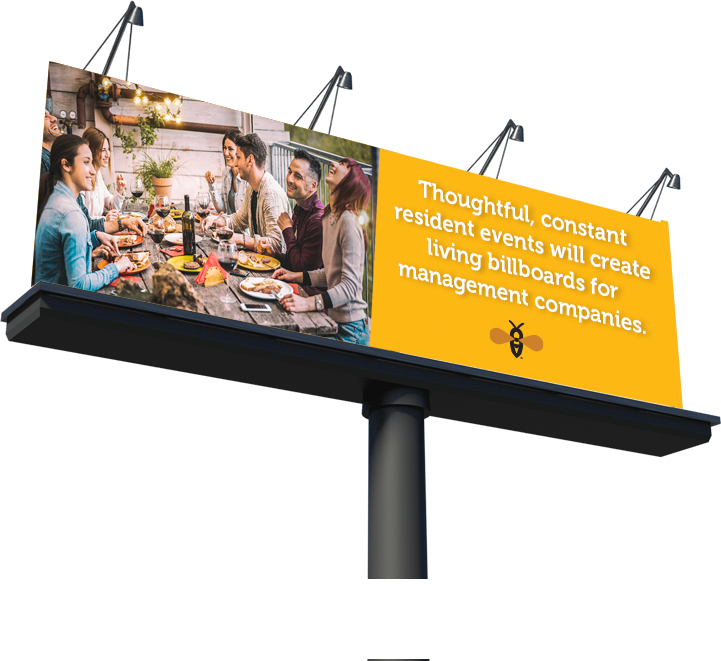 Are resident events important to multifamily marketing?
JG: Yes! Resident events are an unpaid way for influencer multifamily marketing. Social media influencers make thousands of dollars to show how much they love a place or product. If a management company created moments for their residents, they would do the same thing.
What are some COVID-conscious resident event ideas?
JG: We have some communities exploring hybrid events such as craft events, cooking classes, and mixology experiences. They give residents the option of participating in person or virtually. That has helped with providing a sense of comfort for those not open to a social gathering yet.
In addition, we have communities doing separate events on the same day to avoid residents coming all at once. Time-blocked events help with residents signing up for a preferred time. Plus, the community gets to have an idea of the actual participation.
What are some fun grab-and-go style resident event ideas?
JG: I love the idea of a scavenger hunt as a fun grab-and-go-style event. The way to do a scavenger hunt is to give clue cards that encourage the resident to take photos of clue location spots. It can be an interactive way to get the residents to participate on-site or in local retail spaces.
The hard part about grab-and-go-style events is knowing the result of the effort. People love free food and treats. It doesn't mean that the event was a success. I think a fun event has to be interactive, impactful, and trackable.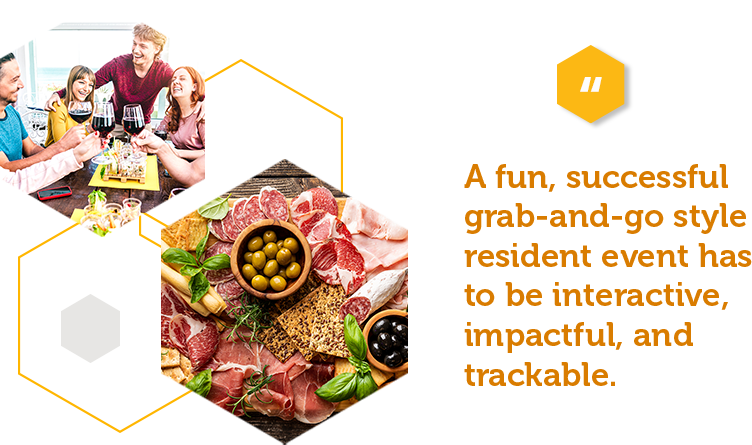 How can properties make time for resident events?
JG: Property managers and office staff have a full plate with day-to-day activities. I understand the juggle of balancing everything — the best way to make time for event planning is to create a multifamily marketing strategy and plan in advance.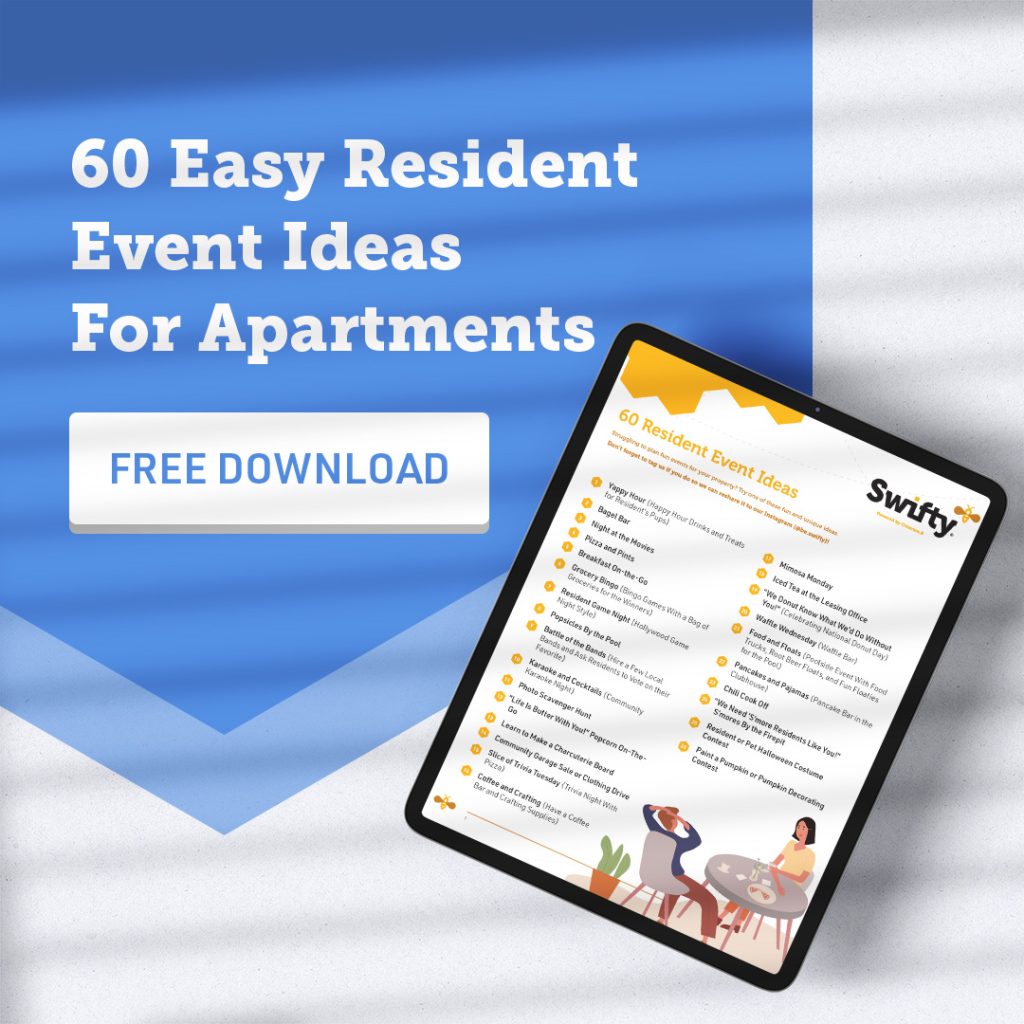 In addition, I would even recommend surveying their residents. I love polling residents at an event on the next resident event idea. It will help with keeping them excited about what is next.
Repeat events lose the appeal, and participation drops off. LuxeGiving was created to help think about unique and creative ways to host events. We understand that people did not enter into property management to become event planners. Strategy is everything when creating an impactful resident event.
How important is social media for a resident retention strategy?
JG: Social media for apartments depends on age, demographic, and audience. Different age brackets base their decisions on social media. My age bracket tends to look at every business or service online before making our purchases from a social perspective. You may find that more mature individuals do not have the same viewpoint.
A strong social media presence can create a desire for someone to live or visit a location. I think well-executed social media accounts are capturing the apartment leads and attention of those that are searching. Plus, it is a way to stay connected with residents AND the surrounding neighbors.
60 Resident Event Ideas – Easily Plan More Resident Events and Increase Resident Retention in 2022