3 Apartment Marketing Goals to Make Part of Your Property's Social Media Strategy
Social media might seem pretty straightforward, but like any apartment marketing endeavor, we encourage you to have a strategy.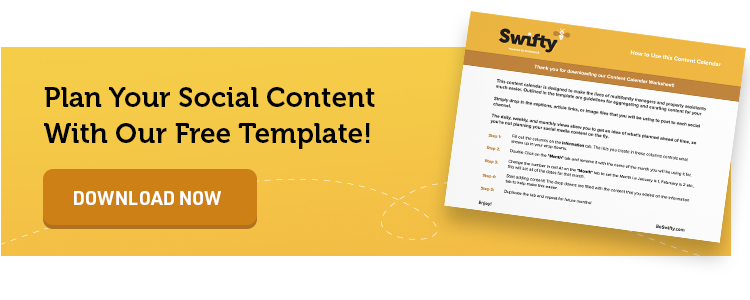 What Are Your Apartment Marketing Goals?
When defining your goals, don't forget to be measurable, specific, and realistic. For most multifamily professionals, KPIs like occupancy rate and resident turnover are crucial, but it's important to dive deeper to think about how your online platforms impact those KPIs to determine campaign goals.
So, what are you looking to accomplish through your marketing efforts? We suggest the following to each of our clients:
1. Increased apartment website visits.
Is your apartment website well-optimized to convert visitors into leads? Do you offer online tools for maintenance requests and rent payments to make your residents' (and property managers') lives easier? Getting more traffic to your site — from new prospects and current renters — should be a primary goal. Social media can be a great avenue for generating targeted, quality website visitors.
2. Better social media engagement.
One of the biggest perks of social media as a marketing channel is the ability to create an engaged online community of individuals that build up your target audience. 
For example, if your property is part of a mixed-use development, consider running a campaign that encourages residents and visitors to share images and videos of their time in the area. Create a customized hashtag to keep track of the posts and share the user-generated content via your feed and Stories to spark engagement among customers and retailers.
To separate Preston Hollow Village (PHV) from its competitors, Criterion.B (the apartment marketing agency that powers Swifty) developed a targeted apartment marketing strategy to boost engagement. We launched a "Mark the Moment" campaign to spark engagement among the mixed-use development's retailers and customers.
As part of the campaign, visitors and residents were encouraged to share their moments online using #MarkTheMoment as they visited PHV retailers. Whether they enjoyed an ice-cold beer at the bar, working up a sweat at OrangeTheory Fitness, or eating fresh sushi, we wanted to collect the moments. Through this campaign, we effectively increased engagement across all PHV social media channels and increased apartment website traffic by 50 percent.
3. Enhanced resident experience.
Social media marketing can certainly be used as a lead generation strategy, but we'd argue that one of the main goals should not be lead-focused but focused on providing a better resident experience. As it turns out, social media is crucial to improving the resident experience. The internet allows word-of-mouth communication to spread easier than ever, both positive and negative.
In the multifamily industry, negative commentary from residents is commonly found online via sites such as Yelp, Facebook, Twitter, and Google business pages. Residents frustrated with a property's maintenance issues or poor customer service often express those feelings publicly online. How a multifamily property responds will ultimately determine how a negative comment affects your business.
Actively monitor your reviews and implement a strategy for responding to negative comments and attempting to resolve those issues, if possible. Reward positive feedback from your residents by responding and even reposting the review on your social media pages.
Where Does Social Media Fit Into Your Apartment Marketing Strategy?
In apartment marketing, knowing which tactic works best can be hard. Many multifamily properties mistakenly focus too much of their efforts on one specific tactic like blogging or social media.
Each part of your marketing strategy should fit together into one cohesive piece. Your apartment website, social media presence, user experience, customer experience, etc., should operate in harmony to establish a successful apartment marketing strategy. This is also helpful for determining which channel or advertising method makes the most sense for your apartment community.
How Does Your Online Presence Encapsulate Your Multifamily Brand?
You didn't think we would let you forget about the importance of your multifamily brand, right? The most distinct online presences are the ones that adhere to a visual style and brand. For example, you could strip Kate Spade's Instagram account of every mention of the brand, and fans would still be able to identify it based on the company's distinct visual style.
It's not just fashion brands that have a strong online presence. Luxury apartment complex LVL 29 utilizes high-quality imagery, a professional tone, and consistent filters to separate its brand from the competition and portray the high rise as an elevated and sophisticated community.
With directed campaigns, a targeted advertising strategy, and influencer outreach, you can leverage digital platforms to delight and attract a strong audience.
Determining Your Property's Budget
The most important thing to remember when determining your social marketing budget is to look beyond your marketing spend. While social media is certainly a viable marketing strategy, it's also part of your customer service strategy. Budget accordingly!
When developing a social media strategy, take a data-driven approach and think holistically about where social media fits into your larger online strategy. Who is your buyer persona? What goals are you trying to accomplish? How can social media help you accomplish these goals? Once your strategy and team are aligned, you can position your property for digital marketing success.
Ready to start planning your social media content and aligning it with your apartment marketing strategy? Download our free Social Media Calendar Template to map out each platform and content you will publish!