How to Turn Social Media Trends Into Success for Your Property
Social media is constantly changing and evolving. From updated algorithms to new social networks and a changing demographic, it's exhausting trying to keep up with the times so you can properly promote your property online. We first wrote this blog back in 2019, and each year since, we have updated it significantly to reflect the most current social media multifamily marketing trends.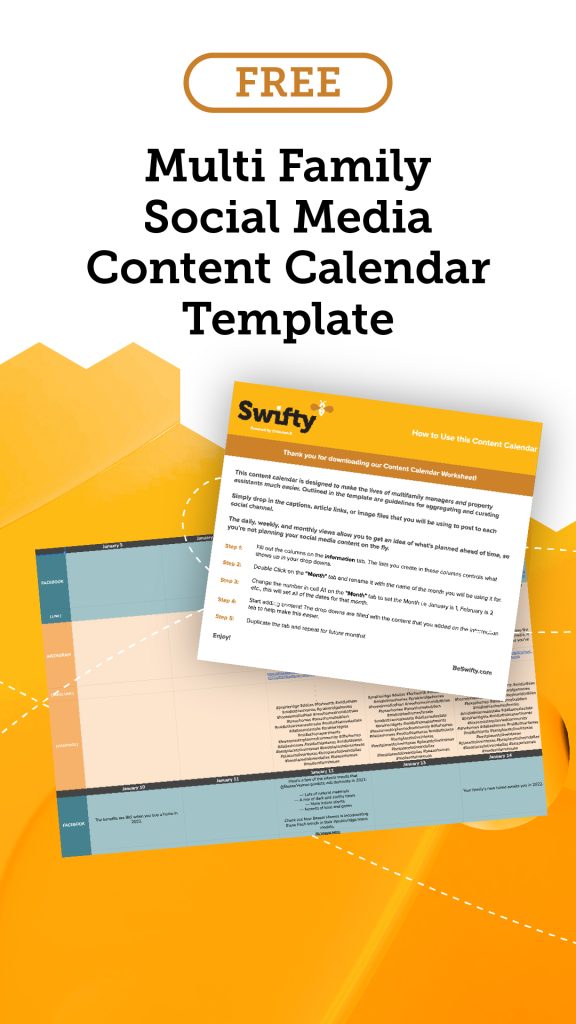 Below are some of the biggest social media multifamily marketing trends and how you can integrate these into your campaign strategy to amplify engagement with your residents.
1. Be more receptive to TikTok, Snapchat, and Pinterest ads.
New studies show that consumers are becoming more receptive to advertising on smaller social media platforms (i.e., platforms that aren't Instagram, Facebook, and Twitter).
A Kantar study found that consumers ranked TikTok ads as more enjoyable, inspiring, and trendsetting than ads on other platforms. This isn't surprising, considering many ads come straight from influencers who have been getting creative with the way in which they present video ads.
Additionally, a Nielson study found that Snapchat ads had more reach than television ads and lead to greater purchase intent.
And finally, another recent study found that Pinterest ads had cheaper conversion rates and a higher ROI than ads on other social networks.
The hypothesis surrounding the success of these ads is that it entirely depends on your industry and the type of product or service offered, as well as which networks your demographic prefers. For example, if your property is a senior living facility, TikTok and Snapchat ads are not the way to go — and are highly unlikely to generate quality leads.
Meanwhile, if your property is in student housing, it's prime time for you to hop on board the TikTok train because your residents are already on the express track!
If your property serves millennial professionals, you are likely on the appropriate platforms: Facebook, Instagram, and Twitter. Success on these platforms entirely depends on how you present your ads and when.
Facebook and Instagram are saturated with hundreds and hundreds of ads. Your ad is likely buried in a feed of family updates, selfies, and ads for Hello Fresh meal delivery kits. You must make your ads more entertaining and less disruptive to increase conversions. The beauty of TikTok ads is that influencers are getting creative with their video ads to make them seem like organic content.

Experiment with creating ads that are intriguing and different than what you normally see, or test a new network. If you have previously discounted a social media platform, thinking your audience is not there, think again. Times are changing, multifamily marketing trends come and go, and you might be surprised! 
2. Don't be afraid to live stream.
Video content continues to gain ground as customers spend less time reading and more time watching videos. U.S. adults spend an average of 209 minutes watching TV and 103 minutes watching digital video on devices daily. Clearly, it's time to rethink your strategy to place branded video content in the front seat of your marketing efforts. This is one multifamily marketing trend that isn't going anywhere anytime soon!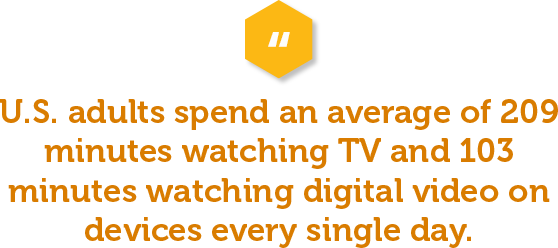 The popularity of video marketing is not going away; in fact, we predict it will only intensify in the years to come. However, it isn't traditional videos that will draw consumers' interest. Short clips, live streaming, Stories, and behind-the-scenes content will be the most popular.
Live streaming features contain so many great social media marketing opportunities. For example, you can broadcast a live Q&A with an influencer or announce real-time events for clients or customers. Additionally, live features allow for specific market targeting across multiple platforms.
Your customers no longer want to see typical commercials or sales video content. They desire candid, honest videos from their favorite brands.
Strategize, collaborate, and brainstorm multiple ideas for live-streaming videos to add to your content calendar this year. For pre-recorded content, plan a half-day where your team members can create and edit the videos. Setting aside specific time for planning this content is critical, as it can easily get pushed down the priority list. For live streaming video, set calendar reminders for your team to ensure your creative ideas are brought to life.
Consider fun, natural, and casual content. Are you celebrating the anniversary of your property this year? Live stream members of your leasing team recalling their favorite memories or resident events to commemorate your property's milestone.
3. Get creative with your Stories.
The Stories feature has been very popular in recent years across various industries, and that isn't going to change anytime soon. Stories were originally launched on Snapchat and were quickly launched on Instagram and Facebook later on. Now, Stories are a standard feature on almost all major social media platforms, including TikTok, Twitter, and Pinterest. From Gifs and stickers to polls and "Ask me a question" forms, these platforms continually add capabilities — and it's up to your business to keep up.
Use Stories to showcase behind-the-scenes content, share a quick update with your followers, reveal a promo code, promote a new blog, or share helpful tips. Get creative and mix it up by adding music to the background of your Stories, use fun fonts, and add a relevant hashtag or two to broaden your audience. 
On Instagram, you can save your Instagram Stories to your Highlights and add cover images that match the theme and aesthetic of your feed. You can also convert Stories Highlights into a Reel to expand your reach.
4. Don't give up on Instagram Reels.
You don't have to have a TikTok account to hop on the video multifamily marketing trends we mentioned above. Since Reels debuted a few years ago, they've become Instagram's fastest-growing feature. So, how do you use this tool to reach more people in your audience?
Reels are a lot of work, but the key here is consistency. Reels receive 22% more engagement compared to other forms of content on Instagram, and we've experienced the fruits of that labor first-hand.
Try to set a goal for yourself or your leasing team to post at least one Reel weekly. At the end of the month, check your analytics to see which Reels performed the best and how much your engagement and reach increased monthly.
Not sure what to make your Reel about? Check out what other people are doing on the platform. Search for content to help inspire you and save your ideas into a folder. Then, recreate those ideas using trending audio and relevant hashtags, giving the Reel your unique twist.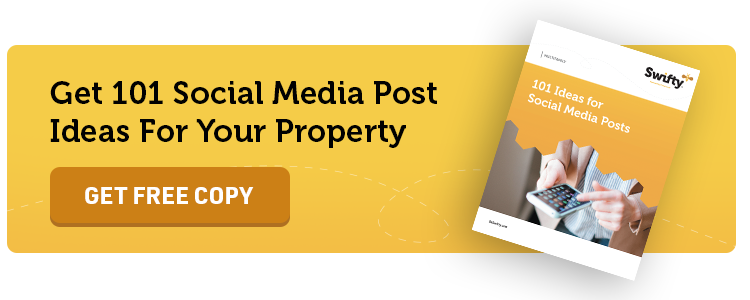 5. Promote your brand through influencer marketing.
From reviews to thought leadership, social media offers a unique outlet to turn fans into influencers. As brand trust erodes, potential consumers will continue to turn to current customers for reviews, advice, and feedback on the products or services they are interested in.
Influencers are often viewed as a more trustworthy resource than advertisers, thus better capturing your audience. Connecting with these influencers allows you to market your product or service simply by becoming visible through their followers.
Connecting with industry professionals is the first step to becoming more aware of how influencers can help your marketing. Engage with relevant people in your industry in social media groups, direct messages, and comments online. Connect in person at trade shows, conferences, and other networking events. It's important to develop a network first so that you can call on these connections as new marketing ideas arise.
For example, invite an influencer to guest blog on your site or have them take over one of your social media channels for a day to motivate and engage your followers. Pair influencer marketing with live streaming to host a live Q&A session starring an influencer or important client. Let your followers tune in and ask questions about your business, products, or services.
No matter how you tap into the influencer market, showing your prospective buyers how your product or service works in a real, candid way can help build brand trust and increase customer loyalty.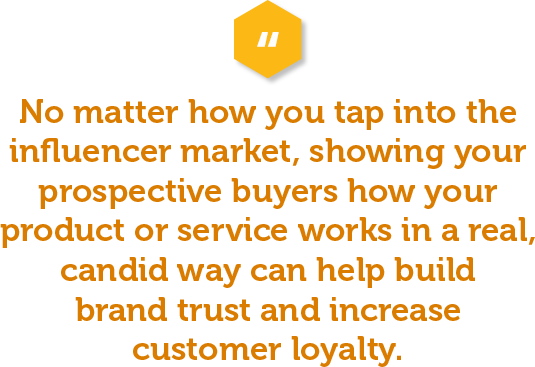 6. Make sure you "listen" to your followers.
Brands that are not listening on social media are also missing out on valuable marketing insight. When brands effectively leverage social media's two-way properties for apartments, they can create opportunities for positive word-of-mouth. 
Several major brands have set up social media accounts to address customer service issues. This is necessarily a two-way channel — one that requires connecting and listening.
Take the multifamily industry, for instance. Customer service is obviously an important part of the job. But that positive personal encounter that keeps current and potential residents happy also carries over to digital. Multifamily brands can make a huge impact by monitoring conversations online. Engaging with renters as they comment on social media channels will show the active presence of the community. 
If you notice a resident blasting on social media that their maintenance request still has not been resolved or that they can't find a parking spot in the afternoons, take this as an opportunity to respond to that resident's comments and implement a plan to appease their issue(s). You might be able to earn a good review (despite the issue) by showing the residents that you hear them online and are taking action to make improvements.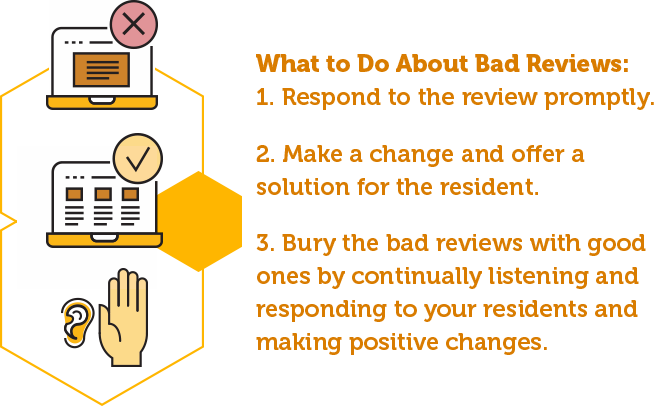 Stop Planning and Take Action
It's time to stop planning and start taking action on these multifamily marketing trends. From self-service social media packages and optimized web designs, Swifty takes a creative approach to help you attract the right visitors to your website at the right time. Get in touch with us today to learn more about our services!