Level Up Your Multifamily Marketing With These Social Media Tips for Apartments
Are you running out of ideas for your property's social media strategy? Do you feel like you're not seeing the results you hoped for? Or, do you feel like you are spending too much time on your social media strategy but not getting any results at all?
You aren't alone.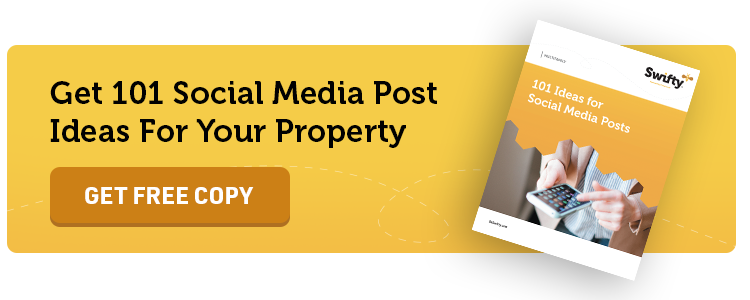 Social media is incredibly tricky and finicky, especially for new or smaller multifamily properties. That being said, it offers a fantastic (and free) way to promote your property and reach residents you normally wouldn't be able to.
Here are the types of content we're advising our clients to share:
1. Property Updates
Share any community updates. These updates can include minor changes to your front office hours, property renovations and upgrades, changes in your community amenities, a change in policies, etc. While it's important to notify your residents via email or written notification about these updates, social media offers an additional and free platform to reach your residents (and even prospective renters) to let them know what's going on at your property.
Is your apartment making some exciting changes or upgrades? Social media is a great tool for showcasing transformation. You might start with a shot of the apartment number, open the door and show your apartment crew hard at work painting walls, and installing new fixtures and carpets. And be sure to pan the finished product! Sharing these videos on social media allows prospective residents to see that your property is constantly updating. The same can be done for updates around the property. These videos, which showcase the time and effort of your crew, let renters know that you want their new place to be a home, not just an apartment!
If you are offering a sale or discount on available units, you can also promote this on your social media; just make sure you don't over-promote your property online. Most of your followers want to see helpful content that inspires them or solves their pain points and not constant sales pitches.
2. Positive News
Your residents see enough "doom and gloom" online and in the news, so there's no need to add to it. Instead, share positive content that can help lift your residents' spirits, such as good news or uplifting stories. The more you can connect this positive content with your business, the better!
For example, you could run a campaign called "Community Kindness," where you share acts of kindness occurring at your property and encourage residents to participate. Residents are looking for things to smile about, and your property can be there to offer it.
3. Apartment-Related Tips
It is important to limit any helpful information you offer to tips and resources relative to the multifamily industry. This ensures that you are sharing first-hand, accurate information.
For example, as an apartment community, it's a great idea to share things residents can do while at home, such as apartment DIYs, at-home workouts, unique crafts, easy recipes, and so on. If you can devise tips that are directly connected with apartments and rentals and aim to help your residents in one way or another — even if it's minimal — we recommend that you share them.
To take it a step further, consider the different ways you can share content. Don't limit yourself to the caption of a social post. Combine the tips into a blog or downloadable infographic and promote that across your social accounts.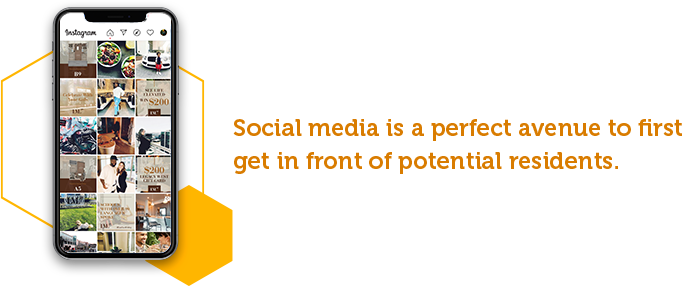 4. Resident Events
Brainstorm some ideas with your team for fun resident events to host where your residents can connect with each other and engage with your property. Once you have the details nailed down, make sure to promote these virtual get-togethers all over social media and in your resident e-newsletter.
You can even turn each event you host into a Facebook event or group — allowing your residents to engage and receive real-time updates.
Assuming the majority of your residents are over the age of 21, a great event idea is a happy hour where each resident needs to craft their own unique drink to bring to the party. Events like this that play off of things your residents already enjoy are the best ones!
5. Property Tour
Looking to sign a new lease this month? Create a property tour on Instagram Reels. Why? Because most consumers search the web before making a purchase decision. What better way to start showing off your property and all of its fabulous amenities than with a quick video tour. Hop on that golf cart and start filming!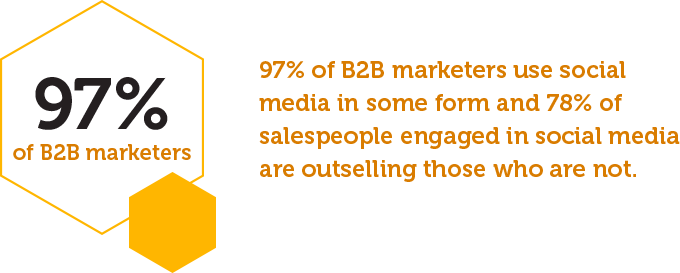 6. Share Giveaways
Instead of having just a one-time-only event, you could have monthly, bi-monthly, or even weekly small giveaways to not only earn more social media followers but also increase engagement and reach. This could be something as simple as a gift card, custom swag, event tickets, discount on rent, etc. You could even team up with local shops or restaurants to make it happen and advertise to both of your circles of influence.
7. Answer FAQs
Social media also offers a great forum to answer frequently asked questions from your residents and prospects; whether you include questions about your pet policy, monthly rent, location, or leasing office hours, you can easily post about this on your social media Stories and save it to your Highlights on Instagram for future reference.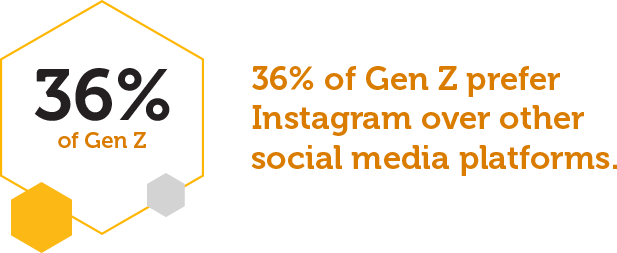 8. Share Fun Facts
Is your apartment community located in a fun area? One great social media idea for apartments is to post some fun facts about your city and what makes the area unique. Are there any unique monuments, landmarks, shops, or museums residents need to experience? How about the unique local cuisine you recommend? And don't forget about interesting animals or plants that are not found anywhere else.
Why Consistency Is Key to Social Media
To put it simply, consistency is key when it comes to your social media. Even if your staff doesn't have the capacity to share social media content regarding all of these tips, it is important that you keep up with regular posting. Aim to share content at least once or twice a week. 
At the end of the day, what matters most is that your property has a positive online presence. Residents will notice your social media apartment marketing absence, and it may affect their future leasing decisions.
Did you enjoy these tips and post ideas? Download our free list of 101 social media post ideas below!